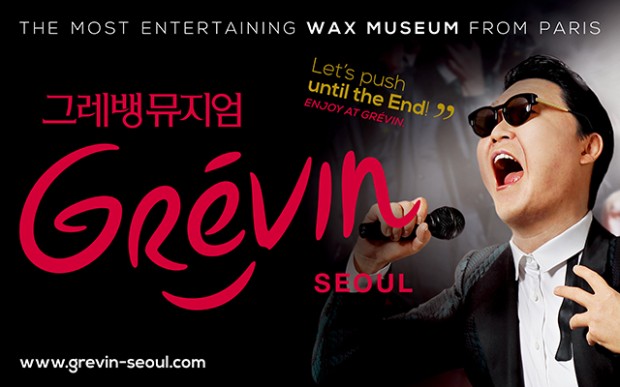 Take 10% off admission tickets to get up close and personal with wax replicas of your favourite celebrities.
Available until: March 31 2017

Grevin Museum is a world class museum with over 133 years of history. Established in 1882 at the heart of Paris, Grevin has been building its branches in cities with rich history and culture. After Montreal in 2013 and Praha in 2014, Grevin opened its first door to Asia on July, 2015 in Seoul. Grevin Musuem displays over 80 celebrities like Marilyn Monroe, George Clooney, and Tom Cruise, as well as Korean stars like Kim Soo Hyun, Psy, Lee Minho, Jang Keun-suk, and G-Dragon, on top of sports figures like Park Ji Sung, Kim Yuna, and historical figures like Sejong the Great and Admiral Yi. Each wax figures are placed in an area that has been themed to accustom the figures. It took over 6 months to create each figure. The 14 themed areas are equipped with special set, lighting, and music. On top of taking photos with the celebrities in these areas, there are 8 interactive media zones you can experience. Playing hoop with Michael Jordan, taking a quiz with Steve Jobs and Einstein, and playing an aircraft simulation game gives you a fresh and new experience. And the gift shop located on the first floor is stocked with Grevin Art items, as well as celebrity cushions, pouches, and figures. And many items are exclusive in Grevin. On top of that, you can get a taste of France in our Café Grevin, in which you can have savory pasta, pizza, rice, as well as coffee and deserts, a sweet break after your visit.

Terms and Conditions:

1. The exhibition is suitable for all ages. Each person must have his/her own ticket.
2. The exhibition is open from 10am to 6pm. The ticketing starts at 10am and the entrance ends at 5pm. The entrance time may vary from season to season, so please refer to our website.(grevin-seoul.com)
3. As the museum doesn't have parking space, please use public transportation.
4. Children under 3 years of age may enter for free, with proper age verification.
5. Ticket, once printed, cannot be reprinted. You may not enter without a ticket, so please be cautious with it.
6. No duplicate voucher or offer will be entertained.

Checkout MasterCard for more details about this offer and to book your tickets now!