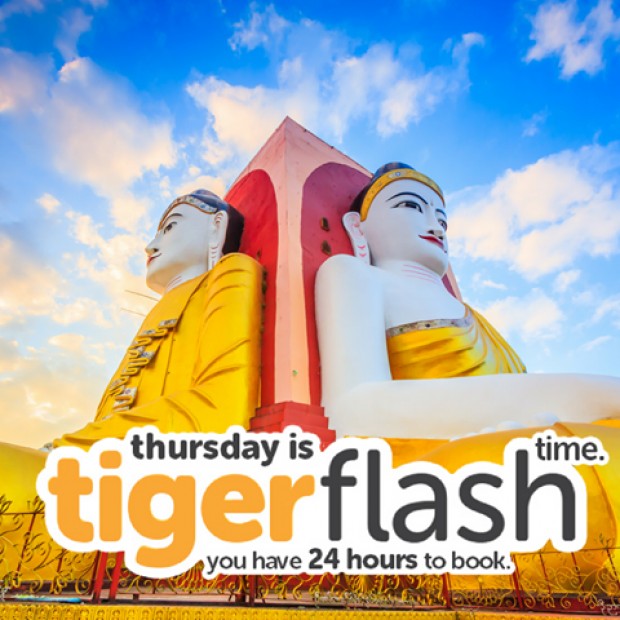 Take a day trip from Yangon to Bago and be awed by the four magnificent seated Buddha statues at the Kyaikpun Pagoda. The ancient city used to be the capital of the Mon Kingdom in Myanmar.

Looking to be amazed in 2017? Look no further than our special year end TigerFlash promo! Fly to Yangon and other destinations in Asia at 50% off!

Enjoy 50% off promotional fares from Singapore. Simply enter promotional code FLY50 when you book your flights on our homepage.
| | | |
| --- | --- | --- |
| Destinations | Travel Period | |
| Ipoh | 7 - 28 Feb 2017 | 50% Off* |
| Kuala Lumpur | 1 - 28 Feb 2017 | 50% Off* |
| Langkawi | 08 Jan - 26 May 2017 | 50% Off* |
| Penang | 1 - 28 Feb 2017 | 50% Off* |
| Bangkok | 10 Jan - 5 Apr 2017 | 50% Off* |
| Chiang Mai | 9 Feb 2017 – 6 Apr 2017 | 50% Off* |
| Hat Yai | 13 Jan 2017 – 22 Mar 2017 | 50% Off* |
| Krabi | 10 Jan 2017 – 6 Apr 2017 | 50% Off* |
| Phuket | 1 Feb 2017 – 28 Apr 2017 | 50% Off* |
| Hanoi | 10 Feb 2017 – 25 Apr 2017 | 50% Off* |
| Ho Chi Minh City | 8 Feb 2017 – 31 May 2017 | 50% Off* |
| Yangon | 6 Feb 2017 – 31 May 2017 | 50% Off* |
| Bali | 21 Mar 2017 – 31 May 2017 | 50% Off* |
| Jakarta | 12 Jan 2017 – 31 Mar 2017 | 50% Off* |
| Surabaya | 02 Feb 2017 – 31 Mar 2017 | 50% Off* |
| Clark | 13 Jan 2017 – 22 Jan 2017 | 50% Off* |
| Manila | 1 Feb 2017 – 28 Feb 2017 | 50% Off* |
| Hong Kong | 13 Feb 2017 – 29 Mar 2017 | 50% Off* |
| Taipei | 03 Jan 2017 – 24 Jan 2017 | 50% Off* |
| Guangzhou | 12 Feb 2017 – 25 May 2017 | 50% Off* |
| Haikou | 16 Feb 2017 – 30 May 2017 | 50% Off* |
| Macau | 16 Feb 2017 – 31 May 2017 | 50% Off* |
| Ningbo | 05 Jan 2016 – 31 May 2017 | 50% Off* |
| Quanzhou | 11 Feb 2017 – 29 May 2017 | 50% Off* |
| Shenzhen | 10 Feb 2017 – 31 May 2017 | 50% Off* |
| Wuxi | 14 Feb 2017 – 31 May 2017 | 50% Off* |
| Xi'an | 14 Feb 2017 – 31 May 2017 | 50% Off* |
| Zhengzhou | 03 Jan 2017 – 31 May 2017 | 50% Off* |
| Malé | 30 Jan 17 – 31 May 2017 | 50% Off* |
| Bengaluru | 6 Feb 2017 – 2 Apr 2017 | 50% Off* |
| Hyderabad | 4 Feb 2017 – 30 Apr 2017 | 50% Off* |
| Kochi | 6 Feb 2017 – 29 Mar 2017 | 50% Off* |
| Lucknow | 5 Feb 2017 – 21 May 2017 | 50% Off* |
| Tiruchirapalli | 7 Feb 2017 – 30 Mar 2017 | 50% Off* |
* Promotional code discount applies to non-promotional base fare only, and only applicable on selected Tigerair flights booked 29 Dec (8am GMT+8) to 30 Dec (7.59pm GMT+8). Promotional code is valid for travel originating out of Singapore, Thailand and Indonesia to selected Tigerair flights. Taxes are subject to change due to currency fluctuations. Payment processing fees per passenger per sector and Tigerconnect fees per guest per journey (where applicable) are not included, and are not applicable for promotional code discount. Seats are limited, subjected to availability; and may not be available on all flights or all dates. Blackout period may apply during school holidays and peak travel dates. Offer is valid for online bookings made at www.tigerair.com and on Tigerair's mobile app for supported devices only. Bookings are non-refundable, non-transferable and non-changeable, except as provided in the Conditions of Carriage. For more details, visit www.tigerair.com