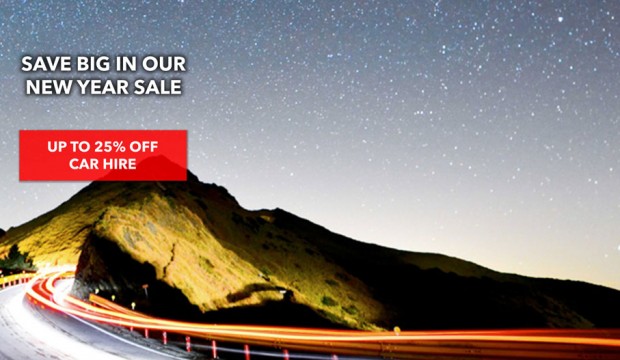 Celebrate the arrival of 2017 with up to 25% off our range at thousands of locations worldwide. This limited time offer applies to our core range - so everything but our vans and special fleet. Whether you're planning a romantic city break, a family holiday up in the mountains, or indeed an Avis road trip of any kind, we've got a great car for you at a fabulous discount. Our New Year Sale discounts are available for bookings up to 31st January 2017 for pick-ups up to 6th April 2017.
Offer bookable from 28/12/2016 until 31/01/2017.
Offer valid for rental pickup between 28/12/2016 to 06/04/2017 (individual exclusion dates may apply).
Discount percentage varies by pickup location.
Please quote AWD #L628400 to take advantage of this offer
Participating countries only.
Black out period applies.
Terms and conditions for bookings in Asian locations:
Offer is valid for pay at destination bookings and rentals.
Advance booking restrictions & Blackout periods apply.
Reservations and rentals must be made on or before 31st January 2017.
Rentals must be booked for pick up between 28th December 2016 - 6th April 2017.
Latest pick up of the Avis vehicle (at participating locations) as per promotional period.
Minimum rental length of 4 days applies for Asia.
Offer is valid for Europe residents only at participating Avis locations in Asia.
Participating locations in Asia include: Singapore, Taiwan and Malaysia
Taxes, optional items and other surcharges may apply.
Renter must meet Avis age, driver and credit requirements.
Minimum age may vary by location and an additional daily surcharge may apply for renters under 25 years old.
Offer cannot be used in conjunction with any other promotional offer, discount or AWD.
Offer is subject to availability and subject to change without notice.
For your local and international car rental bookings please contact: Avis @ 1 800 737 1668 or book online @ www.Avis.com.sg.