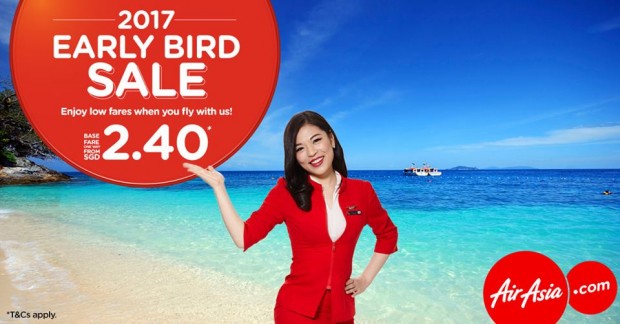 Be that early bird that catches the worm and fly to Bangkok, Cebu, Penang, Semarang and more from just $2.40 with AirAsia! Book before 15 Jan!
Travel Notes
- Advanced booking required.
- Fares are not available during embargo period.

2x AirAsia BIG Points MasterCard® Offer
Book flights from 9 January 2017 - 15 January 2017 for travels from 1 May 2017 - 6 February 2018 and enjoy 2x AirAsia BIG Points on base fares when you book with MasterCard®.
This bonus points offer is only limited to the first 3,000 guests and applies to all flights departing from Malaysia, Singapore, Vietnam, Cambodia, Laos, Myanmar, and Taiwan.
Fly from Changi Airport (Terminal 1), Singapore to:
| | | |
| --- | --- | --- |
| FLY-THRU (Connecting flights) | All-in-fare from | |
| Singapore ► Bangkok – Don Mueang ► Guangzhou | SGD 105.00 | Book Now » |
| Singapore ► Bangkok – Don Mueang ► Chiang Rai | SGD 81.00 | Book Now » |
| Singapore ► Bangkok – Don Mueang ► Chiang Mai | SGD 82.00 | Book Now » |
| Singapore ► Bangkok – Don Mueang ► Hong Kong | SGD 97.00 | Book Now » |
| Singapore ► Bangkok – Don Mueang ► Khon Kaen | SGD 81.00 | Book Now » |
| Singapore ► Bangkok – Don Mueang ► Macao | SGD 80.00 | Book Now » |
| Singapore ► Bangkok – Don Mueang ► Phnom Penh | SGD 76.00 | Book Now » |
| Singapore ► Bangkok – Don Mueang ► Yangon | SGD 72.00 | Book Now » |
| Singapore ► Bangkok – Don Mueang ► Ho Chi Minh City | SGD 76.00 | Book Now » |
| Singapore ► Bangkok – Don Mueang ► Shenzhen | SGD 97.00 | Book Now » |
| Singapore ► Bangkok – Don Mueang ► Surat Thani | SGD 78.00 | Book Now » |
| Singapore ► Bangkok – Don Mueang ► Udon Thani | SGD 77.00 | Book Now » |
| Singapore ► Kuala Lumpur ► Bengaluru | SGD 131.00 | Book Now » |
| Singapore ► Kuala Lumpur ► Banda Aceh | SGD 85.00 | Book Now » |
| Singapore ► Kuala Lumpur ► Brunei | SGD 92.00 | Book Now » |
| Singapore ► Kuala Lumpur ► Kolkata | SGD 113.00 | Book Now » |
| Singapore ► Kuala Lumpur ► Chongqing | SGD 105.00 | Book Now » |
| Singapore ► Kuala Lumpur ► Colombo | SGD 124.00 | Book Now » |
| Singapore ► Kuala Lumpur ► Kochi | SGD 114.00 | Book Now » |
| Singapore ► Kuala Lumpur ► Hyderabad | SGD 127.00 | Book Now » |
| Singapore ► Kuala Lumpur ► Chennai | SGD 114.00 | Book Now » |
| Singapore ► Kuala Lumpur ► Manila | SGD 154.00 | Book Now » |
| Singapore ► Kuala Lumpur ► Perth | SGD 174.00 | Book Now » |
| Singapore ► Kuala Lumpur ► Pontianak | SGD 95.00 | Book Now » |
| Singapore ► Kuala Lumpur ► Siem Reap | SGD 76.00 | Book Now » |
| Singapore ► Kuala Lumpur ► Surabaya | SGD 110.00 | Book Now » |
| Singapore ► Kuala Lumpur ► Tiruchirappalli | SGD 120.00 | Book Now » |
| Singapore ► Kuala Lumpur ► Visakhapatnam | SGD 124.00 | Book Now » |
| Singapore ► Kuala Lumpur ► Wuhan | SGD 117.00 | Book Now » |
Terms and Conditions:

• A non-refundable processing fee is applicable for payments via credit, debit or charge card • Fare includes airport taxes (except for selected airports where airport tax is collected at the point of departure) • Seats are limited and may not be available on all flights • Valid for new purchases only • All fares are quoted for single journey (one-way) only • All taxes must be paid at the time of purchase unless otherwise stated • Foreign fares are subjected to currency exchange rates • Offer is subject to availability and AirAsia's Terms and Conditions of Carriage • No refunds are permitted after payment has been made • Guests travelling need to provide all necessary travel documents (eg valid passport, visa where applicable etc) at the time of departure • AirAsia reserves the right to deny guests from boarding without proper documentation • Full payment shall be made upon booking • Changes to flights and dates are permitted subject to change fees • Changes to name are not permitted • Only available for online bookings at www.airasia.com. Terms & Conditions for MasterCard® Offer: • A valid AirAsia BIG Member ID is required at the time of flight booking • Retro claim of AirAsia BIG Points is not applicable • Applicable for bookings made on www.airasia.com and the AirAsia Mobile App • AirAsia BIG Points will be awarded 4 weeks after promotion ends • For non-AirAsia BIG members, please sign up here • Other AirAsia BIG Points-earning Terms & Conditions apply