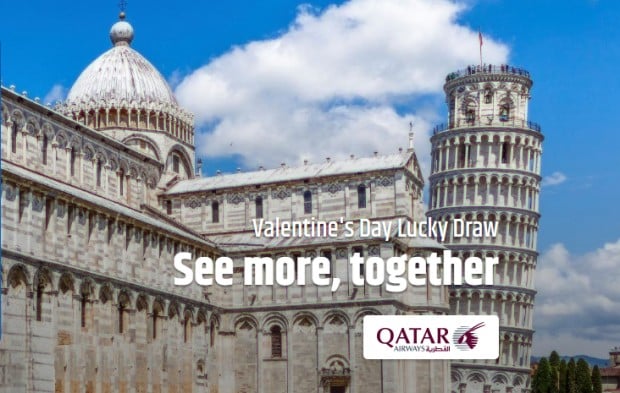 Our new year's resolution is to get you to see more, do more and feel more this 2017.
So here is your chance to fly to Pisa on Qatar Airways - the World's Best Business Class Airline at Skytrax 2016 World Airline Awards, for FREE! For the lovebirds who have always wanted to take a creative photo with the leaning tower of Pisa, you can tick that off your bucket list soon!

How to enter?
Like us on CheapTickets.sg Facebook page.
​Enter your details here.
And you're on your way to winning the trip to Pisa, Italy! Don't forget to get your friends to participate too.
Submit your details by 9 February 2016, 11.50pm, and winners will be announced on Valentine's Day. Who knows, a trip to Pisa might just be your Valentine's day gift!

Terms and Conditions
The prize entitles the winner to 1 pair of return Economy Class tickets (inc taxes) on Qatar Airways to Pisa.
Customers who enter their details in the above form will be automatically entered in the draw and will get a chance to win.
Results will be announced on or before 14 February 2017.
Travel Period: From now to 15 Dec 2017. Blackout period: 25 Mar to 10 Apr 2017, 15 Jun to 1 Jul 2017 and 15 Aug to 10 Sep 2017.
Tickets are nontransferable and nonrefundable. Other restrictions may apply.
Read the full Terms & Conditions here.
Checkout CheapTickets.sg for more details about this offer and to start sending your entry now!