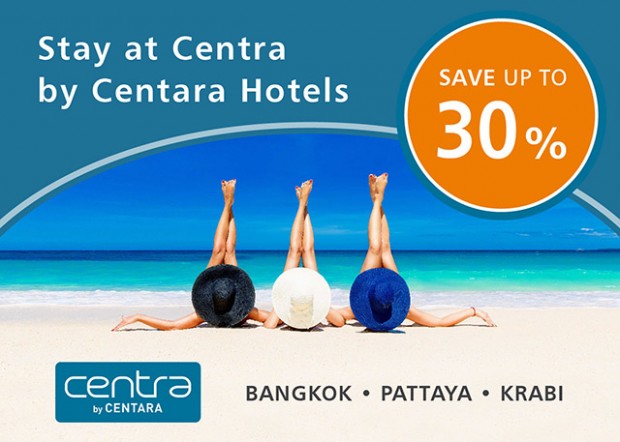 Centra by Centara hotels are an eclectic mix of styles, featuring contemporary modern hotels in Pattaya and Krabi, a beachfront retreat on the island of Koh Samui, and two urban hotels in Bangkok, one located at the doorstep of Bangkok's Chinatown and the other one offering expansive meeting facilities at the Government Complex. All offer spacious accommodation for a satisfying price, along with a fitness centre, great dining options, meeting facilities, and free Wi-Fi.
We're offering all Centra by Centara customers an incredible deal! When you book at one of our Centra by Centara's handy, hospitable four-star hotels, you'll enjoy up to 30% off of your stay.
Take a pick from the Centra by Centara destinations listed below, and book and stay before 31 March 2017.

Terms and Conditions:
All reservations must be guaranteed with a credit card number that is valid throughout the entire stay.
Full charge is applied in the event of cancellation, non-arrival, a shortened stay or early departure.
This promotion cannot be combined with any other promotions.
For more information or for further assistance with your booking, please contact our reservation centre at reservations @ chr.co.th or on +66(0) 2101 1234 Ext 1, or via our live chat.
Checkout Centara Hotels to see all participating properties and to book your accommodation now!