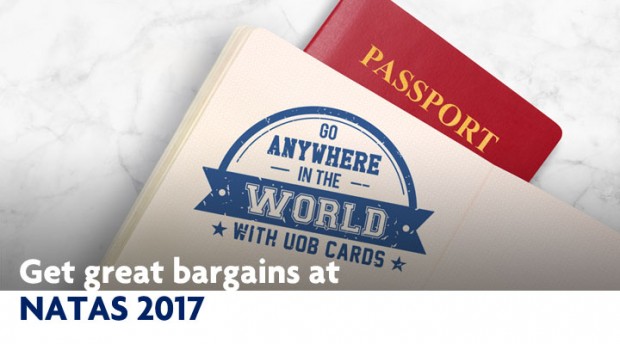 NATAS is here again and the deals keep getting better with UOB Cards. Redeem free luggage and/or all new foldable and expandable duffel bag when you book your holiday with UOB Cards. Visit us at the fair for more details!
NATAS 2017
Singapore Expo Halls 7 & 8
17 to 19 February 2017
10am to 9pm
UOB Travel - 7H24
America and Europe

Up to 50% off 2nd person for bookings with Trafalgar & Insight Vacations

Australia, Hong Kong and Korea

Child travels for free on selected UOB Travel packages
50% off 2nd guest to Adelaide

Club Med

Up to 50% off Club Med Premium all-inclusive holidays
Bali | Bintan | Cherating | China | Europe | Hokkaido | Maldives | Phuket

Complimentary one-way airport transfer

6 miles per S$1 spent on Club Med Holidays with UOB PRVI Miles
3% cash rebate for other UOB Cards

Japan

Additional S$250 off per couple for selected Japan packages

Cruises

Additional 5% rebate on selected cruises
Costa Cruises 8H06
Exclusive Costa Gift with every cabin booked
Dynasty Travel 7H10
EU Asia Holidays 7H27
8D6N Cherry Blossom Korea + Jeju from S$1,288
EU Holidays 7H27
10D7N Mama Mia Italy from S$2,188
Farmosa Holiday Tour 7H04
4D3N "I Love Hong Kong" from S$518

S$50 off per couple
Plus, free 5 days unlimited data SIM card

6D4N "I Love Sydney" from S$1,428
H.I.S. Travel 8H14
Rail Adventure packages

Addition S$50 off per pax
Insight Vacations 8H09
Land Tours
Complimentary Premium Furmint white wine from Hungary (worth S$90) per couple
Jetabout Holidays 8H10
Perth Land Packages
Hideaway Beach & Resort Maldives Land Packages
Stamford Discovery Cruise Center 8H21
Western Mediterranean from US$849
Norway's Fjord from US$949
Reollo Travel 7H32
Scenic Travel 7H08
4 or 5D Sydney Marathon Festival from S$1,628
Taiwan 2-to-go Tours from S$398
Travel Star 8H13
4D3N Hong Kong Family Package + Disneyland Tour from S$628
3D2N Hong Kong City Hotel + 1N Hollywood from S$698
Universal Travel Corporation 8H12
12D Tulips & Windmills Boutique River Cruise to Netherlands & Belgium
13D Midnight Sun & Glacier Experience

Up to S$500 off per person
WTS Travel 7H14
7 or 8D "Valuable Taiwan Tour" from S$888

Free Leather Passport Cover (worth S$29.90)
Terms and Conditions
All promotions are valid from 17 to 19 February 2017, unless otherwise stated. Full payment including deposits must be made with a UOB Credit or Debit Card.All UOB Cardmembers are eligible for the offers, subject to the merchant's acceptance of Visa, Visa Electron, MasterCard®, American Express®, or Japan Credit Bureau, unless otherwise stated. All promotions are valid for UOB Credit and Debit Cards issued in the following countries but not limited to Singapore, Malaysia, Thailand and Indonesia, unless otherwise stated. All promotions are valid at all outlets in Singapore, unless otherwise stated, specified in accordance with the merchant's terms and conditions. All promotions are valid while stocks last. All promotions are not valid in conjunction with other offers, discounts, promotions, vouchers, coupons, privileges or purchase of gift certificates, unless otherwise stated. Promotions listed are in Singapore Dollar Currency, unless otherwise stated. All promotions may be subject to prevailing government taxes and service charges where applicable. For promotions with a minimum purchase requirement, the minimum purchase amount does not take into account of taxes and fees, including but not limited to Goods and Services Tax, unless otherwise stated. All promotions are subject to the individual merchant's black-out dates, cancellation charges and other terms and conditions. UOB Cardmembers are advised to check with the relevant merchant(s) concerned. Information is correct at time of publish. UOB makes no representation or warranty whether express or implied, and accepts no responsibility or liability for the completeness or accuracy of the information. UOB assumes no responsibility for any loss or damage or expenses arising in connection with the offers, howsoever arising. UOB makes no representation to the quality or performance of the goods and services provided by the merchant in connection with the offers. UOB will not be responsible for any injury, loss or damage suffered as a result of the redemption of the offer or usage of the goods and services. UOB is not an agent of the merchant. Any dispute about the quality or service standard must be resolved directly with the merchant. UOB reserves the right to vary or amend the terms and conditions governing the promotions without notice, or withdraw or discontinue the offers at any time without any notice or liability to any party.
Itinerary