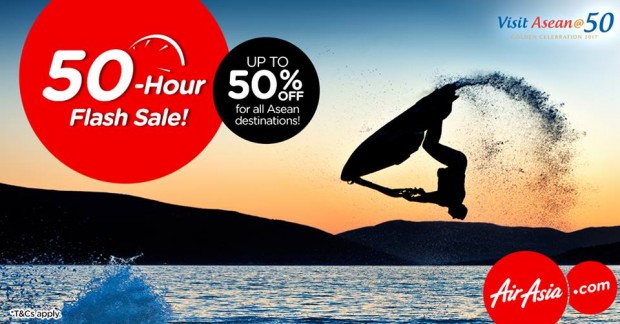 Double the thrill with our 50 hour flash sale with up to 50% off all Asean destinations!

Booking Period: 15 February 2017 – 17 February 2017
Travel Period: 5 September 2017 – 23 November 2017

Travel Notes
- Advanced booking required.
- Fares are not available during peak period.
- Up to 50% off is applicable to base fare only.
- Promo is also available on the AirAsia Mobile App.
- Promo period: 15 February 2017, 10am (GMT+8) – 17 February 2017, 12pm (GMT+8).

What's the promo all about?
It means you can enjoy up to 50% off on base fares for flights across all Asean destinations. It's that
simple!
Follow these simple steps to enjoy the discount:
Pick your preferred flight departure and arrival.
Our seats may not be available on all flights during public holidays, school breaks and weekends.
Choose your preferred flight.
Other terms and conditions apply; on www.airasia.com
Checkout AirAsia for more details about this offer and to book your seats now!