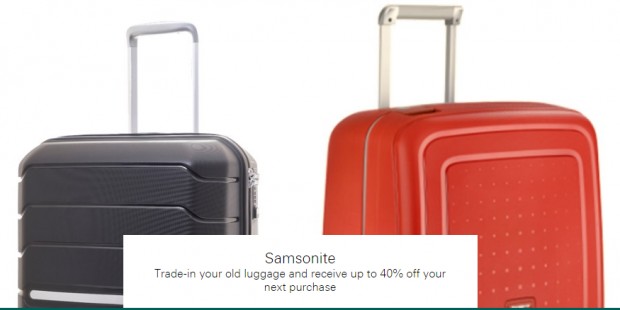 Trade-in your old luggage and receive up to 40% off your next purchase
​
Trade-in any old luggage and enjoy 40% off Samsonite S'Cure or 30% off Samsonite Octolite.
Plus, for every purchase, Samsonite will donate S$10 to Make-A-Wish Foundation

Receive additional 5% off purchases at Samsonite retail storesReceive additional 5% off purchases at Samsonite retail stores (except Changi Airport stores)
Until Date : 28 February 2017

Terms & Conditions
A customer who holds an HSBC credit card (except HSBC USD card, HSBC Corporate card and HSBC Debit card) ("Card") issued by HSBC Bank (Singapore) Limited in Singapore ("HSBC"), ("Cardholder") and who fulfils these terms and conditions shall be eligible to participate in this Promotion.
A Cardholder may trade-in any old luggage and enjoy 40% off Samsonite S'Cure or 30% off Samsonite Octolite.
Colour assortments of the luggage vary across participating stores and are subjected to availability.
Changi Airport stores will only offer trade-in discounts of up to 40% off.
The additional 5% off purchases is not applicable at the Changi Airport stores.
HSBC is not the supplier of and accepts no liability for the goods and services provided by the merchant involved in this Promotion. HSBC reserves the right to vary any of these terms and conditions, or to withdraw this Promotion, at any time in its discretion without prior notice. All information is accurate as at time of publishing or posting online.
Checkout HSBC for more details about this offer and to see all promos exclusive for cardholders.