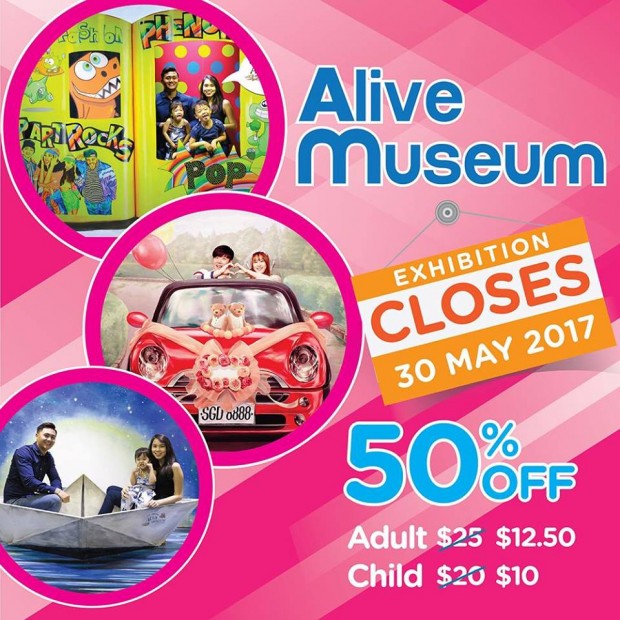 Alive Museum has brought many smiles to locals and tourists alike since we arrived in Singapore.

Before we bid farewell to this sunny island, we'd like to give more people the opportunity to visit us. As such, our tickets will be at a 50% discount (purchasable online and at our counter) till 30 April 2017. Tickets purchased online may be utilised 30 days from date of purchase.

Alive Museum exhibition ends 30 May 2017!

Grab this Last Chance to capture the world of artistry magic at Alive Museum, Singapore's largest illusion attraction! Gather your family and friends to create your best Alive Museum 4D photo memories!
Terms & Conditions:
– Valid from 15 January 2017 to 30 April 2017.
– Other terms and conditions apply. Information is correct as of time of print (Feb 2017).
This offer will not last long, so don't wait any longer, grab your family and friends along to join in now! Just book your tickets here, and they will be delivered to your email box in seconds!
Why book online with us?
– Guaranteed best prices online!
– Quick and convenient – you just need to show the PDF e-tickets on your mobile phone for entry!
– You get to bypass the ticketing queue*!
– No need to wait for physical delivery of tickets or collect them at another location. You get your e-tickets in seconds!
– No need to worry about purchasing unauthorized tickets which you cannot use.
* Separate queue for admission into the museum. This applies to all customers.

Checkout Alive Museum Singapore for more details about this offer and to book your tickets now!