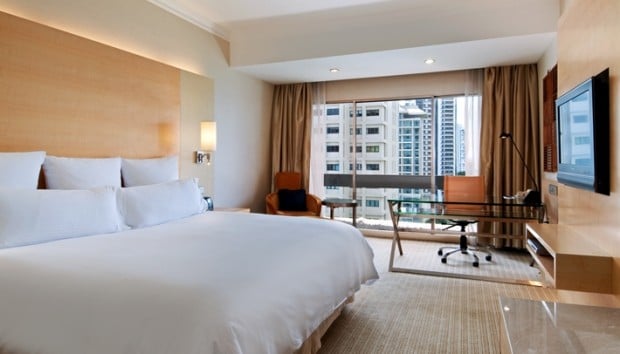 Place us on your meeting agenda and enjoy accommodation group rates from $240++ per room per night. Book by 30 June 2017.
Weekdays (Monday to Thursday): $260++ per room
Weekends (Friday to Sunday): $240++ per room
For more information, please contact the Events team at +65 6730 3319/3320/3387/3217 or email sinhi.sal @ hilton.com.
*Rates are applicable for room only and subject to availability. Applicable for groups with a minimum booking of 10 rooms, with or without meetings. Valid for new bookings only.

Terms and Conditions:

©2016 Hilton. Offer is subject to availability, the full terms and conditions and the hotel's booking terms and conditions. Offer applies to new bookings only and is valid for a minimum booking of 10 rooms, with or without meetings. Offer is available until 30/06/17. This offer cannot be combined with any other offers and/or special discounts. Blackout dates may apply. Unless otherwise stated, rates include VAT but exclude gratuities, local taxes and incidental charges. To be eligible for the Event Bonus Points you must be a member of Hilton Honors. Whether to book an event is at the discretion of the hotel and is subject to availability and other factors at time of booking. Each hotel has a policy to address terms and conditions of holding an event at their property; please inquire with hotel prior to booking for complete details. A contract must be signed with the hotel to govern the terms of the event. The details of the event, including identification of the Event Planner, must be described in the contract. All other Event Bonus terms and conditions apply. Points cannot be redeemed in conjunction with this promotion. Hilton Honors Membership, earning of Points & Miles™, and redemption of Points are subject to Hilton Honors Terms and Conditions.

Checkout Hilton Singapore for more details about this offer and to book your accommodation now!