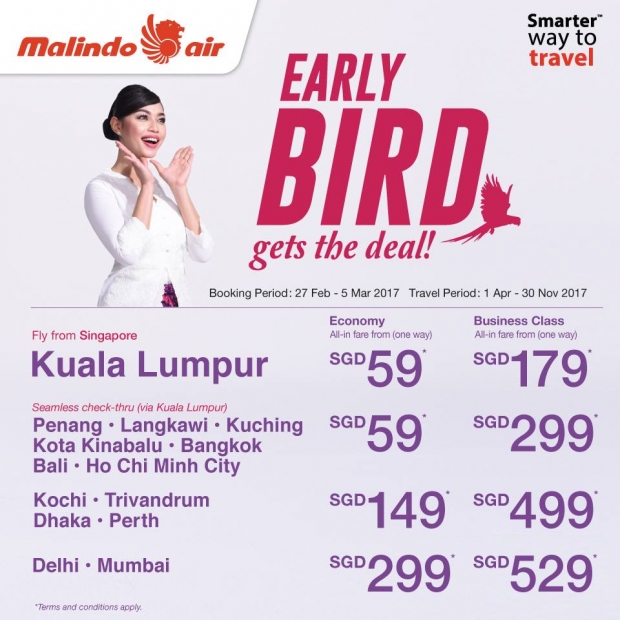 Great Savings - grab your seats fast!
Booking Period : 27 Feb - 5 Mar 2017 | Travel Period : 1 Apr - 30 Nov 2017
Destinations
Economy (One Way)
Business (One Way)
Base Fares
All-in Fares
Base Fares
All-in Fares
Kuala Lumpur
SGD 18
SGD 59
SGD 138
SGD 179
Penang
SGD 11
SGD 59
SGD 251
SGD 299
Langkawi
SGD 21
SGD 69
SGD 251
SGD 299
Kota Kinabalu
SGD 51
SGD 99
SGD 251
SGD 299
Kuching
SGD 51
SGD 99
SGD 251
SGD 299
Bangkok
SGD 39
SGD 89
SGD 249
SGD 299
Jakarta, Bandung
Ho Chi Minh City
SGD 41
SGD 89
SGD 281
SGD 329
Bali
SGD 51
SGD 99
SGD 281
SGD 329
Delhi
SGD 227
SGD 299
SGD 457
SGD 529
Mumbai
SGD 231
SGD 279
SGD 481
SGD 529
Amritsar
SGD 251
SGD 299
SGD 611
SGD 659
Kochi
SGD 111
SGD 159
SGD 451
SGD 499
Trivandrum, Trichy
SGD 101
SGD 149
SGD 451
SGD 499
Colombo
SGD 121
SGD 169
SGD 351
SGD 399
Dhaka
SGD 151
SGD 199
SGD 451
SGD 499
Kathmandu
SGD 181
SGD 229
SGD 451
SGD 499
Perth
SGD 133
SGD 199
SGD 433
SGD 499
Lahore
SGD 251
SGD 299
SGD 651
SGD 699
Terms & Conditions:
Sales period: 27 February - 5 March 2017.
Travel period : 1 April - 30 November 2017.
This promotion is applicable on Malindo Air flights only.
This promotion is subject to seat availability.
Promo ticket is non-refundable for passengers who wish to cancel.
Not applicable for standby passengers.
Request of changing flight or departure date must be at least 4 hours before the departure time.
Passenger(s) will be charged according to flight rate change fees at the point of purchase.
Malindo Air has the right to change or discontinue these special fares and conditions at any time without prior notice.
Checkout Malindo Air for more details about this offer and to book your seats now!