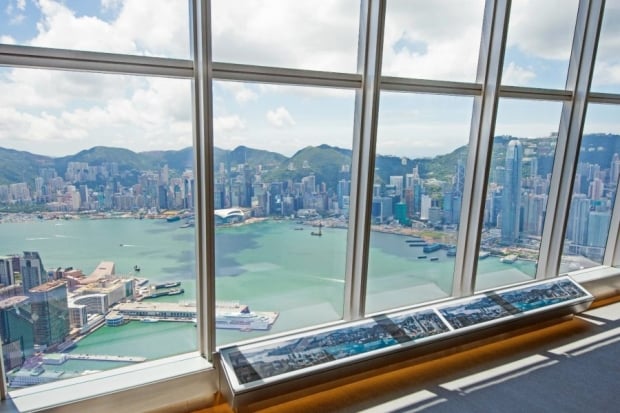 Special discount at sky100

Enjoy panoramic views of the Hong Kong skyline at the city's highest indoor observation deck with 20% off on Standard Tickets. Discount for Cathay Pacific and Cathay Dragon passengers. Visit the landmark of the city, offering 360-degree views of Hong Kong.
sky100 Hong Kong Observation Deck (sky100) is the "Oasis in the City". Located on the 100th floor of the International Commerce Centre, it is the only indoor observation deck in town offering full, stunning views of the city and its famous Victoria Harbour. Immerse yourself in a tranquil atmosphere at 393 metres above sea level. Enjoy high-definition views of Hong Kong at your own pace. sky100 is sure to be a highlight of your time in Hong Kong!
In addition the impeccable view, sky100 enabling you to take fun-filled photos at the "Sky-high 3D Hong Kong Street", so as to "paraglide" over the Victoria Harbour with the interactive AR photo application. The café located at the western deck offers you the boundless sea view and romantic sunset, a perfect place to end this extraordinary sky-high journey.
sky100 has received the Certificate of Excellence for three consecutive years, from 2014 to 2016, from renowned travel website TripAdvisor in recognition of its truly breath-taking views and outstanding hospitality. It is also the only member in Hong Kong of the World Federation of Great Towers, which includes the Empire State Building in the USA, the Eiffel Tower in France and other iconic towers worldwide.

Cathay Pacific/ Cathay Dragon terms and conditions
1. One-way or round trip tickets must be purchased on or before 30 December 2017 on cathaypacific.com or dragonair.com.
2. Travel/airline industry concession tickets, redemption flight tickets and travel packages purchased through Cathay Pacific Holidays do not qualify for this offer.
3. Cathay Pacific or Cathay Dragon reserves the right to suspend, amend or modify these terms and conditions at any time at its sole discretion without prior notice or liability.
4. Other Cathay Pacific or Cathay Dragon and merchant terms and conditions apply.
5. It is the merchant's sole responsibility to ensure the quality of the value-added offers. Cathay Pacific Airways or Hong Kong Dragon Airlines Limited is not responsible for any event of force majeure and shall not accept any responsibility for any damage, loss, injury or disappointment suffered from any value-added offers redeemed by passengers.
sky100 Hong Kong terms and conditions
1. This promotion is valid until 30 December 2017 ("Promotion Period"), except for:
1.1. sky100 Hong Kong Observation Deck ("sky100") closure dates due to special events; or
1.2. Special timeslot or programs which require a separate admission charge; or
1.3. Block-out dates as announced by sky100 from time to time. The prevailing block-out dates and deck closure dates are set out in the sky100's website and are subject to change. Please click here for details.
2. This promotion is only applicable to holders of a valid boarding pass issued by Cathy Pacific or Cathay Dragon (within 7 days of arrival) ("Eligible Guest"). Flight ticket bookings must be made on cathaypacific.com or dragonair.com.
3. Eligible Guest is required to present the Online Booking Confirmation Email or Page together with the original copy of the boarding pass for verification upon ticket purchase at the 1/F Ticket Centre of sky100 to enjoy 20% off on Standard Ticket ("Offer").
4. Ticket purchased with the Offer above ("Discounted Ticket") is only valid for admission on the ticket purchase date.
5. This promotion cannot be used in conjunction with other ticket promotions or discounts and special arrangement on ticket price.
6. Expired, damaged, modified or photocopied Discounted Ticket will not be accepted. No replacement will be applied for lost Ticket.
7. Discounted Ticket is non-exchangeable, non-transferable and non-refundable either in whole or in part, for cash or for any other items.
8. Children aged 11 or below with valid tickets must be accompanied by an adult aged 18 or above with a valid ticket.
9. Guests must comply with the Rules & Regulations of sky100 set out in sky100's official website.
10. sky100 may, without prior notice and without refund or compensation, change the opening hours, close the Observation Deck or any part of it temporarily, and/or restrict the admission, due to capacity, inclement weather, special events, safety or security concerns.
11. sky100 reserves the right to amend or supplement these Terms and Conditions at any time without any prior notice. In the event of disputes regarding these Terms and Conditions, the decision of sky100 shall be final.

Checkout Cathay Pacific for more details about this offer and to book your seats now!