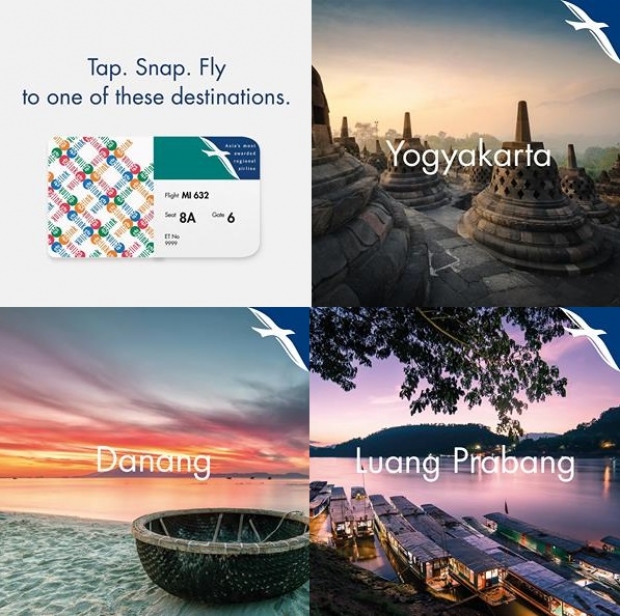 Hidden in the platform screen doors at Jurong East and Serangoon MRT Stations are 3 SilkAir tickets to Danang, Yogyakarta, and Luang Prabang. For a chance to win:
1. Spot any one of the hidden tickets
2. Snap a photo
3. Submit it as a comment on this post
Contest ends 5 Apr 2017. Good luck!

Terms and Conditions:
1) The following terms and conditions apply to SilkAir's 'Tap. Snap. Fly." (hereafter referred to as "the Contest"), which will be held from 2 March 2017 to 5 April 2017, 2359hrs (hereafter referred to as "the Contest Period").
2) The organiser of this Contest is SilkAir (Singapore) Private Limited of 05-D Airline House, 25 Airline Road, Singapore 819829. Before entering the Contest and sending in your submission, you must first read and accept these Terms and Conditions of the Contest and the fact that the decision of the judges is final and binding in all matters relating to the Contest.
3) Employees of SilkAir (Singapore) Private Limited and their immediate families, affiliates, subsidiaries, related agencies, principal sponsors, and suppliers associated with this campaign are not eligible to participate in this Contest. Corporations or other entities are also not eligible to participate in this Contest.
4) The SilkAir Privacy Policy will apply to the personal information provided by the participants. By submitting your information or entry for the Contest, you hereby agree to the full Terms & Conditions of the Contest and consent to SilkAir retaining and using all the data/information submitted by you for its sales, marketing and promotional efforts and to the furnishing of such data/information to SilkAir-related entities and their agents for such purposes. You are required to provide all requested information accurately as any failure to provide the information will disqualify your participation from the Contest. Your personal information may be disclosed to relevant authorities and winners' names published as required under the relevant legislation. A request to access, update, or correct any information should be directed to SilkAir at the address set out above.
5) The Organiser accepts no liability for lost, damaged, misdirected or delayed entries or any technical difficulties affecting the end result of this participant the entry to the Contest. The participants and the winners release and hold harmless the organiser, its affiliates, subsidiaries, and their officers, employees, agents, and representatives from any and all liability, claims, or actions of any kind whatsoever for injuries, damages and/or losses, which may be sustained in whole or in apart, directly or indirectly, in connection with participation in this Contest, any Contest-related activities and/or with the receipt, ownership, or use of the prize or while preparing for, participating in, and/or traveling to any prize-related activity. The Organiser expressly disclaims any responsibility or liability for injury, death, or loss to any person or property relating to the delivery and/ or subsequent use of the prize awarded.
6) By submitting, and upon such submission of, any entries, any information or materials such as (but not limited to) text, photographs, graphics or the like, or any other material (hereinafter referred to as the "Content") to the Organiser for the purposes of the Contest, you license and grant to the Organiser a non-exclusive, royalty-free and free of charge, perpetual, worldwide, irrevocable, and fully sub-licensable right to use, reproduce, copy, modify, adapt, communicate to the public, make available, publish, translate, create derivative works of, distribute, and display such content or any concept described in it throughout the world in any media, product and/service, including, without limitation, advertising, marketing and promotional materials, and digital reproductions, without compensation, restrictions on use, acknowledgement of source, accountability or liability, and with waiver of all moral rights and rights of attribution, integrity and identity to the extent permitted by the relevant laws.
7) With regard to such content submissions, you understand and agree that you are solely and fully responsible for any and all aspects of the content submitted, including but not limited to its legality, appropriateness and non-infringement of third party intellectual property rights, and the Organiser shall not be liable in any way for such content submitted by you. The Organiser shall have no obligation to monitor any of the content provided by you to the Organiser, but may do so at its sole discretion.
8) To the maximum extent permitted by applicable law, the Organiser reserves the right, at its sole discretion to amend, withdraw or revise these terms and conditions and the prizes at any time without prior notice and in such event, the Organiser shall not have any liability whatsoever. Organiser reserves the right not to disclose selection process and all decision made is final.
9) Personal information ("PI") of Participants will be collected to enable the organisers the rights to administrate and use the information provided by the participant to contact winners of the Contest (prizes). The PI of Participants may be provided to others assisting the Organiser in this regard, including without limitation sponsors of the Competition, prize suppliers and deliverers, and authorities that regulate the Competition (if applicable). If a Participant does not truthfully provide all requested PI, the organisers may solely determine that such Participant shall not be eligible to take part in any way in the Competition or win any prize (if applicable). Unless otherwise required for the purposes stated in these Terms and Conditions, all personal data collected for the Competition will be automatically destroyed within three months after the announcement of the winning teams of the Competition.
10) One winner with the correct answer will be picked randomly for each destination and it will be announced on 7 April 2016.

Terms and Conditions of Prizes
1) One return Economy Class flight ticket (hereafter referred to as "the Prize") to either Danang, Luang Prabang or Yogyakarta will be awarded to the respective winners.
2) The Prize won must be accepted as awarded and are not transferable. The Prize cannot be exchanged for cash (partially or wholly) or other goods and services, and are subject to their respective terms and conditions.
3) Winner(s) are responsible for ensuring that all travel papers required for travel to the destination are in good order, are valid prior to, and for the entire duration of the prize(s) period.
4) The Organiser retains the right, in its sole discretion, to make substitutions of equivalent kind or in approximate value in the event of the unavailability of any prize or component of the prize for any reason whatsoever.
5) The winner will be awarded the prize of one return Economy Class flight ticket (hereafter referred to as "the Prize") to either Danang, Luang Prabang or Yogyakarta. The winner must fly from Singapore between 8 April 2017 to 30 September 2017.
6) Prizes do not include travel and accommodation. Winners will have to make their own travel, logistics and accommodation arrangements and are solely responsible for all expenses related to the prize.
7) All tickets are on Economy Class and are for flights originating out of Singapore, inclusive of fuel surcharges. Airport taxes and other surcharges are excluded from the prize. Tickets issued will be non-extendable, non-transferable, non-reroutable, non-refundable, non-upgradable and will be subject to seat availability on the flight. Air tickets are non-FFP mileage accruable. Travel under this agreement does not include excess baggage charges, and any other expenses. Winner(s) will pay for any expenses incurred for visa fees, airport taxes, and other charges. If there is excess baggage, excess baggage waiver will not be granted. Once the tickets are issued, requests for any change will incur the standard re-issuance fees. Other terms and conditions apply.
8) The Winner must travel between 8 April 2017 to 30 September 2017 and no extension will be allowed; any unutilised value or ticket shall be deemed null and void. Travel must be completed by the Winner.
9) The Organiser shall not be liable in any manner whatsoever for any claims, losses, damage, injury. Costs or expenses in connection with or arising out of this Contest, the redemption or use of the prizes.
10) All decisions made by the Organiser in respect of this Contest are final and no correspondence will be entertained.
11) In the event of any inconsistency between these Terms and Conditions and any advertising, promotional, publicity and other materials relating to or in connection with this Contest, these terms and conditions shall prevail.
12) The Winner must acknowledge the award by 16 April 2017. Otherwise, another Winner may be chosen.

Terms and Conditions of Participation
2) All participants must answer with the correct photo under the contest post's comment section.
3) All entries must be submitted by 5 April 2017, 2359hrs Singapore Time (SGT).
4) Each participant can only submit one entry.
5) Entries are assessed based on the correct answer and selected randomly.
6) Contest is open to all SilkAir Facebook and Instagram fans around the world. However, the "Prize" is for flights originating out of Singapore.

Checkout SilkAir's Facebook Page for more details about this offer and to send your entry now!