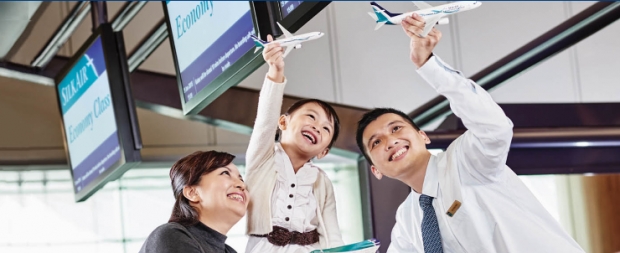 Making the most out of the right price at the right time with our early bird specials
For booking and full terms and conditions, please click on the preferred fare. All fares shown are subject to currency fluctuations and seats availability.

Australia
| | |
| --- | --- |
| Destinations | 30 days before travel (SGD) |
| Cairns | 811 |
| Darwin | 537 |
Cambodia
| | |
| --- | --- |
| Destinations | 30 days before travel (SGD) |
| Phnom Penh | 268 |
| Siem Reap | 298 |
China
| | |
| --- | --- |
| Destinations | 30 days before travel (SGD) |
| Changsha | 562 |
| Chengdu | 552 |
| Shenzhen | 492 |
| Xiamen | 482 |
India
| | | |
| --- | --- | --- |
| Destinations | 14 days before travel (SGD) | 30 days before travel (SGD) |
| Bangalore | 450 | - |
| Chennai | 436 | - |
| Kochi | - | 472 |
| Kolkata | 477 | - |
Indonesia
| | |
| --- | --- |
| Destinations | 30 days before travel (SGD) |
| Bandung | 197 |
| Denpasar (Bali) | 264 |
| Lombok | 344 |
| Medan | 174 |
| Pekanbaru | 149 |
| Semarang | 179 |
| Surabaya | 215 |
| Yogyakarta | 239 |
Japan
| | |
| --- | --- |
| Destinations | 30 days before travel (SGD) |
| Hiroshima | 584 |
Laos
| | |
| --- | --- |
| Destinations | 30 days before travel (SGD) |
| Luang Prabang | 354 |
| Vientiane | 324 |
Malaysia
| | |
| --- | --- |
| Destinations | 30 days before travel (SGD) |
| Kota Kinabalu | 216 |
| Kuala Lumpur | 146 |
| Langkawi | 155 |
| Penang | 136 |
Maldives
| | |
| --- | --- |
| Destinations | 30 days before travel (SGD) |
| Male | 552 |
Myanmar
| | |
| --- | --- |
| Destinations | 30 days before travel (SGD) |
| Mandalay | 360 |
| Yangon | 230 |
Nepal
| | |
| --- | --- |
| Destinations | 30 days before travel (SGD) |
| Kathmandu | 678 |
Philippines
| | |
| --- | --- |
| Destinations | 30 days before travel (SGD) |
| Cebu | 244 |
| Davao | 334 |
| Kalibo (Boracay) | 254 |
Sri Lanka
| | |
| --- | --- |
| Destinations | 30 days before travel (SGD) |
| Colombo | 522 |
Thailand
| | |
| --- | --- |
| Destinations | 30 days before travel (SGD) |
| Chiang Mai | 337 |
| Phuket | 147 |
| Koh Samui | 407 |
Vietnam
| | |
| --- | --- |
| Destinations | 30 days before travel (SGD) |
| Danang | 398 |
| Hanoi | 280 |

Terms and Conditions
1. Valid for bookings made from 1 September 2017 to 31 March 2018.
2. All fares are inclusive of associated taxes, surcharges and and are subjected to change due to currency fluctuations.
3. Advertised fares are subject to seat availability.
4. Fares quoted are valid for round trip and open jaw journeys (where applicable) originating from Singapore and must be issued in Singapore on SilkAir Electronic Tickets.
5. All fares listed are valid for travel on SilkAir operated flights only.
6. Valid travel period for this promotion is from 1 Oct 2017 till 30 Jun 2018 for departing out of Singapore (except for traveling to Benguluru, Chennai & Kolkata). Specifically for Benguluru, Chennai & Kolkata, the valid travel period starts from 14 Sep 2017 till 30 Jun 2018.
7. Strictly no refund once tickets are issued.
8. Changes are not permitted.
9. The advertised fares are not applicable for unaccompanied child/minor (below 12 years old from departure date).
10. Passengers requiring seats for personal comfort, bulky or fragile items etc are not permitted to purchase these fares for the extra seat.
11. Other terms and conditions apply.
Check-out SilkAir for more details about this offer and to book your seats now!