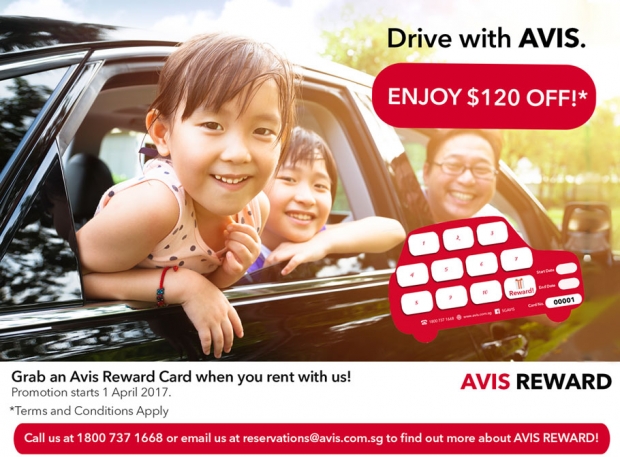 With Avis Reward, we bring you more reasons to drive with Avis!

AVIS Terms & Conditions:
Avis Reward card valid from 1 April 2017 to 31 September 2017.
One redemption is only allowed per transaction.
Avis Reward cards that are damaged may not be accepted.
Avis Reward cards can only be used in Singapore
I.e. Collection of stamps and redemption of "$120 off".
Please present your Avis Reward card during collection of car.
Avis Reward card can be used in conjunction with promotions.
Black out periods may apply for the redemption of "$120 off".
Avis Reward card is transferable. However, it is neither sellable nor exchangeable for cash.
No refund or change will be given if purchase value is less than voucher value.
Coupon is strictly used for car rental purpose only.
Minimum of 2 days rental is required to enjoy "$120 off".
The terms and conditions of this offer can be changed any time at the discretion of the management.