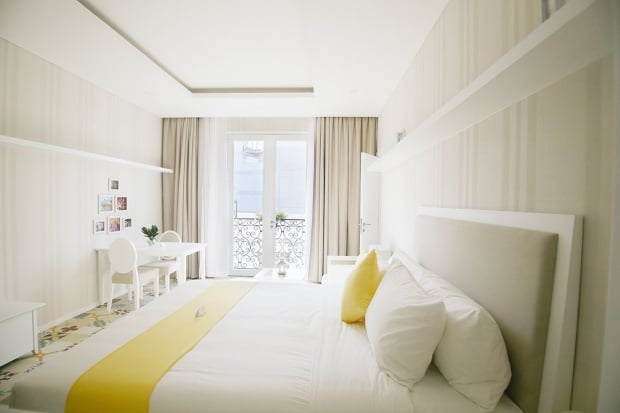 "I am Vietnam" is a boutique hotel with 20 spacious suits, uniquely located in a quiet and peaceful area in the middle of Saigon. From furniture to fittings, "I am Vietnam" suites combine the local character with an edgy twist. "I am Vietnam" believes that the richness of Vietnamese culture and the unique way of living of the people is something every visitor should experience wholeheartedly.
Make yourself feel like home at "I am Vietnam" boutique hotel and enjoy an exclusive discount of 20% on room rate when you choose to book and pay with Visa Cards.
Redemption Period : 15 Dec 2016 - 31 Dec 2017
Eligible Cards (Credit, Debit, Pre-Paid)
Visa Classic, Visa Gold, Visa Platinum, Visa Signature, Visa Infinite, Visa Electron, Visa Corporate, Visa Purchasing, Visa Business, Visa Platinum Business, Visa Signature Business, Visa Infinite Business
Redemption Channel : In-store, Online

Terms and Conditions:
1. The "Visa Special Offers" program (or "VSO'') is valid from 15 December 2016 to 31 December 2017 ("Validity Period'').
2. The privileges under the VSO are available only for purchases made at participating merchants during the Validity Period, using a Visa card issued outside of Vietnam ("Eligible Card'').
3. The offers are only valid at the participating branches. Please check the list of participating branches before use.
4. Visa Cardholders should ask for the offers or privileges at the information counters or from sales staff at the participating merchants.
5. All benefits under the VSO cannot be used in conjunction with any other promotions, discounts, coupons or special offers.
6. All benefits and privileges offered in the VSO are non-transferable and cannot be exchanged for cash or any other merchandise.
7. While Visa and its representatives have taken all reasonable steps to provide information in this booklet as accurately as possible, Eligible Card holders cannot make any claim, complaint, or seek compensation against Visa for:
• any errors or omissions (negligent or otherwise) in respect to anything contained in this booklet; or
• any refusal or failure on the part of any of the participating merchants to provide or honor the privileges under the VSO, for any reason whatsoever.
8. Visa shall not be responsible or liable in any manner whatsoever for any deficiency or inadequacy of services or goods purchased under the VSO, and Eligible Card holders shall look solely to the relevant participating merchants in the case of any queries or complaints for any services or goods purchased. No representation or warranty of any nature is made by Visa as to the quality of any goods or services provided by any merchant under this VSO.
9. Additional terms and conditions may be applied by participating merchants in relation to the VSO, which may not be stipulated in this booklet. Eligible Card holders are solely responsible for checking and complying with the terms and conditions imposed by the relevant participating merchant.
10. Visa reserves the absolute right to withdraw and/or alter any of the terms and conditions of the VSO or list of participating merchants at any time without giving any notice.
11. By utilizing or attempting to utilize the VSO, all Eligible Card holders are deemed to have read, understood and irrevocably accepted and agreed to the terms and conditions set out herein.
12. In the event that the VSO, these terms and conditions, or any part thereof is prohibited or restricted under applicable law, the VSO and/or these terms and conditions may be modified by Visa to extent required to comply with the law.
13. The VSO and these terms and conditions shall be governed by the laws of Vietnam.

Check-out Visa Promotion for more details about this offer and to see all deals up for grabs!