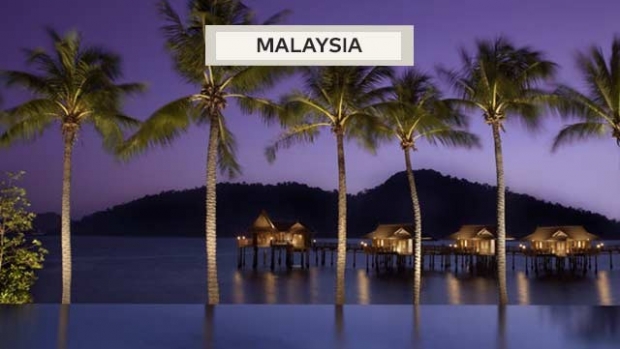 Take a short flight to Malaysia and treat yourself at Pangkor Luat Resort when you travel from Singapore!
Walk in the two million year old rainforest - Witness the splendour of a two million year old rainforest, as you get up close and personal to the interesting flora and fauna within. Watch as the forest reveals itself to you under the expert guidance of our resident naturalist, who will accompany you throughout your walk. Guided daily walks are conducted through the Northern perimeter of the island, which is a gentle trek suitable for various fitness levels. For the more energetic and adventurous at heart, there is the Southern perimeter walk.
One Island, One Resort - 300 acres of paradise with only a fraction occupied by a world renowned Pangkor Laut Resort. A British Colonel, Freddy Spencer Chapman DSO, was one of the first Europeans to make Pangkor Laut his destination for thirty-six hours in May 1945. After spending three and a half years in hiding from the Japanese in the jungles of Malaya, Spencer Chapman made his way to Pangkor Laut's Emerald Bay to escape by submarine. Despite the short visit, the beauty and tranquility of the resort left a great impression on Spencer Chapman and his time on the island is detailed in his book "The Jungle is Neutral."
Flagship Spa Village Pangkor Laut launched by Luciano Pavarotti - Spa Village invites weary travellers to this unique haven, where treatments are inspired by the plot of paradise on which it is set. Healing arts drawn from ancient lore – Ayurvedic, Chinese and Malay – infuse every encounter. Programmes combine physical and spiritual health and well-being, and are based on one of four umbrella concepts: Rejuvenation and Longevity, Relaxation and Stress Reduction, Detoxification, and Romance.
PANGKOR LAUT RESORT - COUPLE SPA EXPERIENCE Rate includes breakfast for two (additional RM40++ per child per day), WiFi, scheduled Jungle Walk with Resident and one time 3-hour couple spa experience.

A Malay wedding ceremony is renowned for its pomp and pageantry, practised for hundreds of years from generation to generation. Traditional Malay wedding culture seeks to prepare the wedding couple holistically, involving the mind, body and spirit. Our Couples Spa Experience includes a series of special body treatments for her and for him, based on these ancient Malay wedding traditions. The Secrets of Puteri Lindungan Bulan and Panglima Bukit Gantang are highly fitting royal treatments for a warrior and his princess.
DURATION 3 hours | Starts from RM3166++ for 2 nights for 2 persons in Garden Villa
Mastercard holders will enjoy the following privileges:
- Complimentary room upgrade & late check out upon availability

Terms and Conditions:
Extension night will be based on Best Available Rate
Quote promo code "NWJM" when making reservation
Rates are subject to service charge and prevailing government taxes
Bookings can only be made via SLH Toll Free Reservation (http://www.slh.com/contact-us/)
Booking is confirmed only with a valid Mastercard submission
Any cancellation or amendment of reservation will be subject to hotel's cancellation or amendment policy at time of change
Check-out MasterCard for more details about this offer and to see all deals exclusive for cardholders.