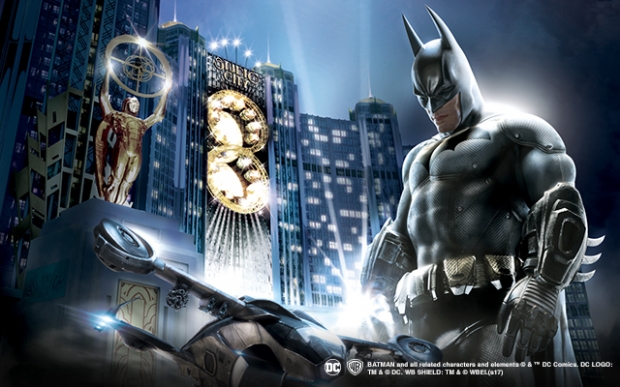 Prepare yourself for a pulse-racing adventure on DC Comics' first Batman 4D flight simulation ride. Enhanced with the latest in flight simulation technology and the very best in audio design and visual graphics, ""Batman Dark Flight"" takes you, and the legend of Batman, to a whole new dimension of super-heroic entertainment. This incredible multi-sensory, action-packed ride throws you among all of Batman's heart stopping encounters as he combats the hair-raising terror of Gotham City's Super-Villains. As an integral part of the storyline, you will join Batman to battle through the explosive action and heart-stopping gunfire on the streets of Gotham City - but this will be no easy task as it is notorious criminals like The Joker, Two-Face and Bane who are out to inflict damage and destruction on the mission. From flying through the city in the Batplane to racing around the streets in a high-speed car chase, this pulse-racing adventure is filled with the risk of disaster - and it's up to you and Batman to save Gotham City from the devastation.
Mastercard cardholders can enjoy 10% off Batman Dark Flight standard adult ticket.

* Must be purchased 1 day in advanced

Terms and Conditions:
1. Promotion valid until 31 December 2017.
2. To enjoy the Offers, cardholders must settle the payment with an eligible MasterCard. All offers are non-transferrable.
3. F&B offer are subject to a 10% service charge. Premiere Bar is subject to a 10% service charges and 5% government tax.
4. Entertainment ticket offers are applicable to standard adult ticket only. Offer is subject to availability; each cardholder can purchase a maximum of 4 tickets per show and must be purchased 1 day in advanced.
5. Warner Bros. Fun Zone offer is applicable to standard admission (1 adult and 1 child; 2 hours) only, the extra adult ticket can enjoy 10% off. Offer is subject to availability; each cardholder can enjoy up to 2 discounted standard admissions per day.
6. Blackout dates and regular dark days applied. Tickets can be purchased at the box office of City of Dreams and Studio City Macau, or reserve ticket through the following hotlines: Macau (853) 8868 6767; Hong Kong toll free: 800 900783 or email to [email protected] with promotion code "MC2017".
7. For online booking, please go to Golden Reel - http://bit.ly/MC17GREN; Batman Dark Flight - http://bit.ly/MC17BDFEN; Warner Bros. Fun Zone - http://bit.ly/MC17FZEN; The House of Magic Show & Dine Experience - http://bit.ly/MC17THOMEN.
8. The ticket is purchased for the show and session specified but the date and time of the show may be subject to change without prior notice. All tickets sold are subject to the Management's right to cancel, alter and/or reschedule the performance, add, withdraw or substitute the artists, vary advertised programs, change the venue or number of seats. In the event of cancellation/postponement of a show, the Management reserves the right to refund the amount paid for the tables or to reschedule the show date.
9. The full amount will be charged to the authorized credit card which provided upon booking confirmation.
10. To collect the entertainment tickets at Box Office, cardholders must present the credit card used for booking, ID card/passport and the booking confirmation letter, failure to do so will result in the full price of ticket charge being applied.
11. The offers cannot be enjoyed in conjunction with any other offers or promotions.
12. The offers are not redeemable for cash and are not exchangeable for other products and services.
13. The Offers are not applicable during peak or black-out periods and any special event dates; and subject to availability.
14. Reservation must be made in advance; cardholders must state their intention to enjoy this offer upon reservation.
15. MasterCard is neither the vendor nor the service provider, thus MasterCard is not responsible for the products or services provided by the merchant.
16. Studio City Hotels Limited and MasterCard reserve the right of final decision on the amendments and interpretation of these terms and conditions (including the use, suspension and cancellation of this promotion).
17. All matters and dispute will be subject to the final decision of Studio City Hotels Limited and MasterCard.
18. The English version of these Terms and Conditions shall prevail whenever there is a discrepancy between the English and the Chinese versions.
19. Other terms and conditions apply (and will be provided upon request).

Check-out MasterCard Promotion for more details about this offer and to see all deals exclusive for cardholders.