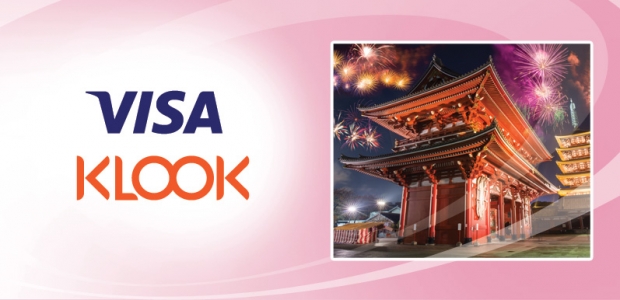 Save up to 75% at Klook Travel

Offer Details:

Receive up to 75% off at Klook Travel with your Visa card. To redeem, visit https://www.klook.com/visa, select an activity and booking date, enter promotional code KLKVISA17 at the check-out page and makeyour payment with your Visa card.

Terms and Conditions:
•This promotion is valid till 31 December 2017.
•This promotion is valid at https://www.klook.com/visa.
•The promotional code "KLKVISA17" must be applied at the payment page to enjoy the discount.
•The promotion is available for bookings made via Klook's website and mobile app.
•Payment must be made with a valid Visa Consumer Card to enjoy the discount. The offers are not applicable for Visa Business, Corporate, Purchasing and Distribution cards issued worldwide and any Visa cards issued in Taiwan.
•This promotional code is not valid in conjunction with other promotions, vouchers and/or discounts, unless otherwise stated.
•Each promotion card can be used to book a maximum of 4 tickets per activity per month.
•Klook reserves the right to suspend, cancel or modify the promotion and terms and condition at any time without prior notice.
•The promotion discount cannot be redeemed for cash or other products of the same value.
•Klook supports payments in different currencies and rates can be converted into different currencies for your convenience. Activity rates indicated in a certain currency are at a rate determined by Klook, estimated using market spot rates. Payment currency will be clearly indicated at time of payment. Some credit cards may charge additional fees in handling certain currencies, please consult with your credit card issuer if additional charges will apply to your transaction.
•Klook reserves the right to require payment of fees or charges for any Services offered by Klook. You shall pay all applicable fees or charges, as described on this Website in connection with such Services selected by you.
•Klook reserves the right to change its price list for fees or charges at any time, upon notice to you, which may be sent to you by email or posted on this Website. Your use (or continue to use) of the Services offered by Klook following such notification constitutes your acceptance of any new or revised fees or charges.

Check-out Standard Chartered Bank for more details about this offer and to see all deals exclusive for cardholders.