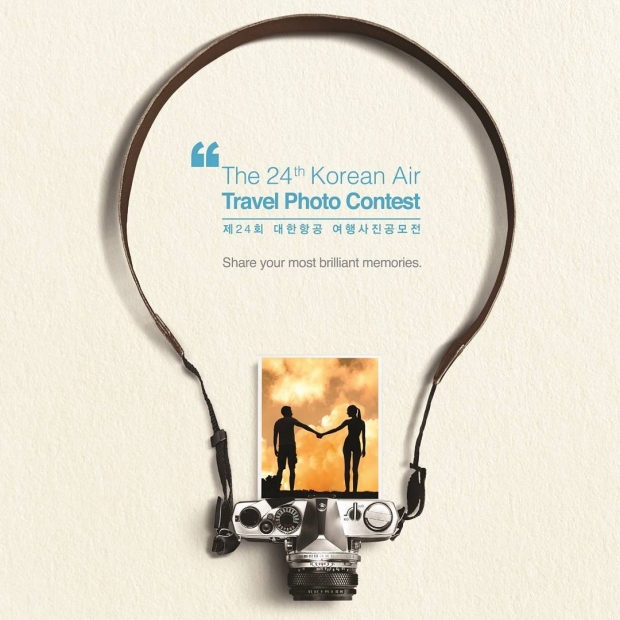 Her's your chance to fly for FREE to selected international destinations with Korean Air.
Submission Period :July 24th, 2017 ~ September 1st, 2017

Theme
The most memorable moment from your travels.
(Must be an unpublished work.)

Eligibility : Open to all nationalities

Rules
1. Each applicant must submit the original photograph and have copyright ownership of each submitted image. Contest winners will retain the
copyright to their photographs.
2. Contest winners shall give to Korean Air the exclusive rights to use "award-winning photos or works" for the purpose of marketing
communications, sales, etc. without any restriction (production, copy, distribution, etc. - e.g., calendar, website, advertising).
3. Korean Air has the discretion to modify images within the scope of business to meet the company's requirements if needed.
4. Applicants who do not agree to this rule will be excluded from the list of contest winners at any time, whether before or after the winners
are announced.
5. Korean Air is not responsible for copyright disputes between the applicant and any third party. (Korean Air shall not have copyright ownership
of each submitted image.)
6. Contest winners must not violate and infringe the exclusive rights of Korean Air for the awarded photo or work by allowing a third party to own
the copyright of the photo or work.
7. Within 3 months after the official closing date of the contest, Korean Air will discard all photos that have not been selected. If applicants would
like to retrieve their submitted work, the applicants are responsible for any incurred expense, including shipping.
8. Flight tickets (Prize and Grand Prize) may be transferred only to the immediate family members.

※ These rules are subject to change.

Prizes: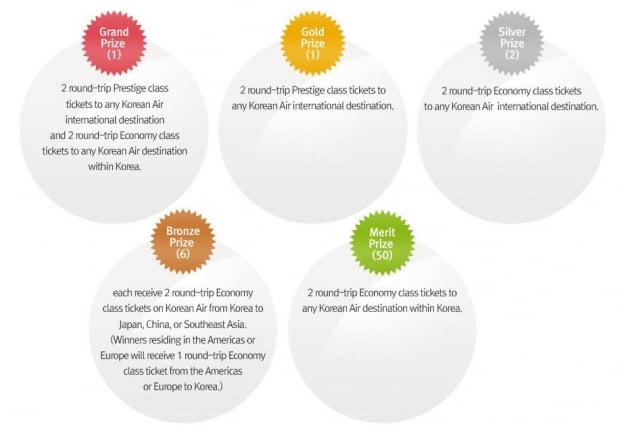 Check out Korean Air for more details about this offer and to start sending your entry now!