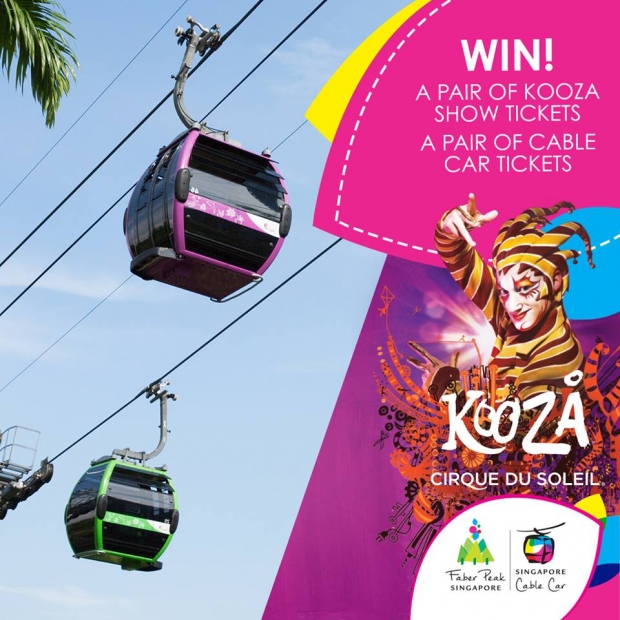 WIN* a pair of KOOZA by Cirque du Soleil show tickets AND cable car tickets!

All you have to do is to comment in this post with a photo of you in your most creative acrobatic pose! Psst, if your photo shows our cable car in the background, you'll double your chances of winning!

We only have 2 winners, and our giveaway ends 07 August So, impress us with your agility now!

Terms and Conditions:

By registering or taking part in Singapore Cable Car's KOOZA Cirque Du Soleil ONLINE CONTEST, all participants agree to be bound by these contest terms and conditions:

1. Singapore Cable Car's KOOZA Cirque Du Soleil ONLINE CONTEST will run from 14 July 2017 to 07 August 2017, 23:59 (Singapore time), unless otherwise specified, on Singapore Cable Car's Facebook Page

2. The contest is open to all Singapore citizens, permanent residents and persons with valid employment passes, work permits and valid student visas. Employees (and their immediate families) of One Faber Group (1FG) and 1FG's appointed advertising agencies (and their immediate families) are not eligible to participate in this contest.
3. Participants of the contest are solely responsible for their own health and safety, where 1FG is not liable for any participant's negligence of safety caution in the event of an accident occurring.

4. Each participant is only allowed one submission. Multiple entries will be disqualified.
5. Participants have to comment on Singapore Cable Car's 14 July Facebook post on KOOZA Cirque Du Soleil ONLINE CONTEST with a photo of them in their most creative acrobatic post. Participants stand double the chances of winning if their photo shows Singapore Cable Cars in the background. Link to the Facebook post available here: https://www.facebook.com/SingaporeC...

6. Only complete entries as deemed by 1FG will be eligible.

7. 1FG reserves the sole right and final decision to determine the winners.
8. Winners will be published via the Singapore Cable Car's Facebook Page https://www.facebook.com/SingaporeC... and winners shall private message the Facebook Page to be notified of prize collection procedures.

9. Upon notification, winners must respond via e-mail with proof of their identity and any other details deemed necessary and relevant by 1FG at its sole discretion.

10. Once the winner's email response with the required details is received by 1FG, prizes shall be collected by winners at a specified location during a specified period of time as informed.

11. 1FG reserves the right to forfeit any prize if the prize is unclaimed after 1FG issues the first notice for any participant.

12. Any winner whose prize has been forfeited shall not be entitled to any compensation, whether or not he/she has been notified of such forfeiture.

13. All prizes are non-transferable, non-exchangeable for any other item and shall be subject to such terms and conditions, which 1FG may at its sole and absolute discretion, impose.

14. 1FG is allowed to, at its sole and absolute discretion, exchange or substitute the prize to another prize of similar or lower value without notice and without liability to any person.

15. 1FG decision on all matters relating to the contest shall be final and binding. 1FG shall not be obliged to enter into any correspondence concerning Singapore Cable Car's KOOZA Cirque Du Soleil ONLINE CONTEST.

16. 1FG shall be entitled to use the participant's name and comments for publicity purposes, including print, broadcast and online media.

17. Problems affecting competition: To the maximum extent permissible by law, 1FG shall not be liable in any way to anyone if, for any reason, any aspect of the Contest is not executed as planned, including without limitation, by reason of infection by computer virus, network failure, bugs, tampering, unauthorised intervention, fraud, technical failures or any cause of whatsoever nature beyond the control of 1FG which corrupts or affects the administration, security, fairness, integrity or proper conduct of the Contest. 1FG may, at any time and in its sole discretion, cancel, terminate, modify or suspend this Contest, or invalidate any affected submissions, without being liable in any way to anyone.

18. These terms and conditions shall be governed by and construed in accordance with the laws of Singapore and you agree to submit to the jurisdiction of the Singapore courts.