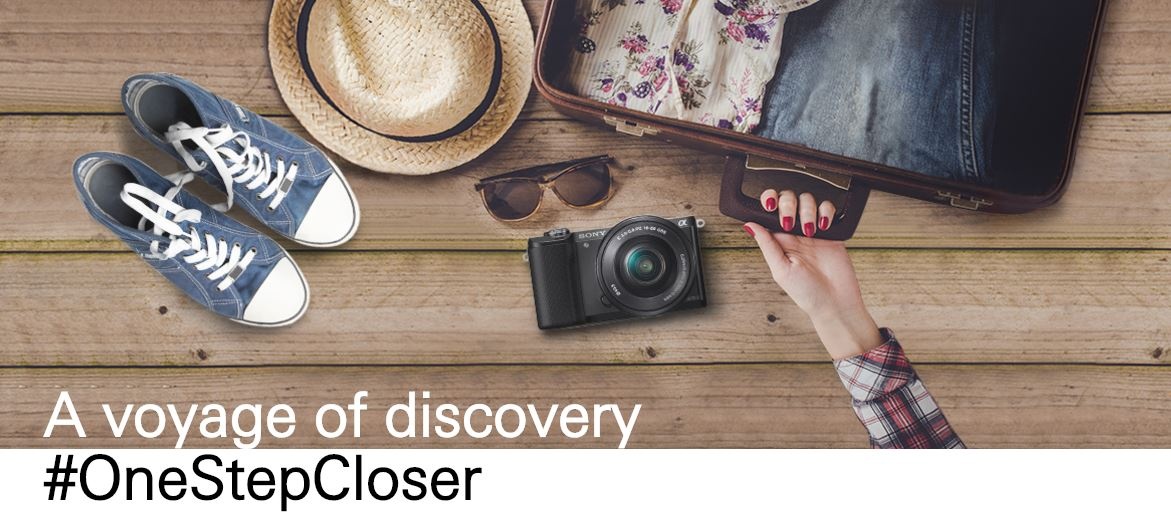 Take off on an adventure with HSBC Credit Cards
Whether you are planning a trip to explore the world or a holiday retreat with family and friends, your HSBC credit card offers you great privileges when you travel. Enjoy great discounts and offers on travel packages, cruise bookings, hotels, tour packages and more.
What's more, your travel purchases made at the Big 4 Travel Fair, Travel Revolution 2017 and/or NATAS Holidays 2017 will be eligible for the Spend & Redeem promotion as long as the minimum Qualifying Spends are charged to your HSBC credit card.
Event details
Venue
Suntec Singapore Halls 401 – 406
Date
11 – 13 August 2017 Friday to Sunday
Time
10am to 9.30pm daily
Redemption details
Venue NATAS Holidays 2017, Suntec Singapore Concourse Level 3, HSBC's Booth CE5
Date 11 – 13 August 2017 Friday to Sunday
Time 10am to 10pm daily
Spend & Redeem
Charge your travel purchases to your HSBC credit card at the travel fairs this August and redeem the gift of your choice.
Step 1: Kick-start your holiday planning
Visit any of the travel fairs and charge your bookings to your HSBC credit card.
Be sure to check out
exclusive offers
from our participating partners at NATAS Holidays 2017.
Step 2: Charge to your card
Charge the minimum spend requirements (as per the table below) to redeem the gift of your choice.
Step 3: Redeem your preferred gift
Visit HSBC's booth at Suntec Singapore, Concourse Level 3, Booth CE5 from 11 to 13 August 2017.
Present your card(s) of which the travel purchases were charged and the corresponding qualifying original charge slip(s) for verification and redeem your gift.
Note:
Travel purchases charged at NATAS Holidays 2017 to your HSBC credit card will also be eligible for the redemption.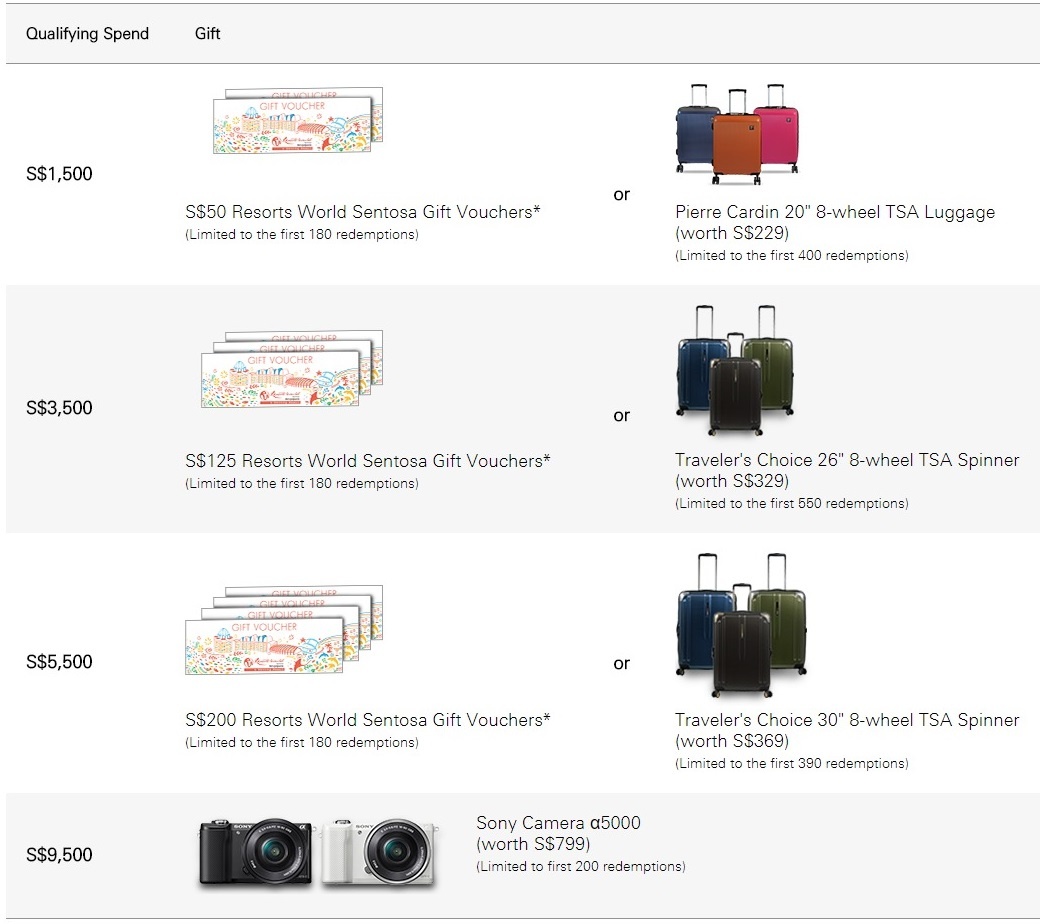 Colours and quantity of the Gifts are limited and available while stocks last.
* Resorts World Sentosa Gift Vouchers can be used to purchase Attraction tickets, pay for hotel room stay, redeemable at selected retail and F&B outlets. For the full list of participating outlets, click here.

For the purpose of this Promotion, "Qualifying Spend" refers to travel purchases charged to a Card in Singapore dollars at participating travel partners of either of the following events (the "Events"): (i) the Big 4 Travel Fair held at Suntec Singapore, Level 3 Concourse 1 – 3 from 4 to 6 August 2017; (ii) the Travel Revolution – The Event held at Marina Bay Sands Convention Centre, Halls A to B from 4 to 6 August 2017; and/or (iii) the NATAS Holidays 2017 held at Suntec Singapore, Halls 401 - 406 from 11 to 13 August 2017. Cardholders are required to charge to their Card(s) the respective minimum spend amounts in respect of Qualifying Spend for each spend tier to redeem the relevant Gift. All Gifts are valid while stocks last, on a first-come-first-serve basis. Cardholders are required to present their Card(s) to which the relevant Qualifying Spend transaction(s) were charged and the corresponding qualifying original charge slip(s) bearing the last 4 digits of such Card(s) ("Charge Slips") at the HSBC booth located at CE5, Suntec Singapore Concourse Level 3 at the NATAS Holidays 2017 from 11 to 13 August 2017 to redeem the relevant Gift. For details on the defined terms used here and further details on this Promotion (such as minimum Qualifying Spend and applicable exclusions), please refer to the full terms and conditions.

Full terms and conditions and Frequently Asked Questions (FAQs)