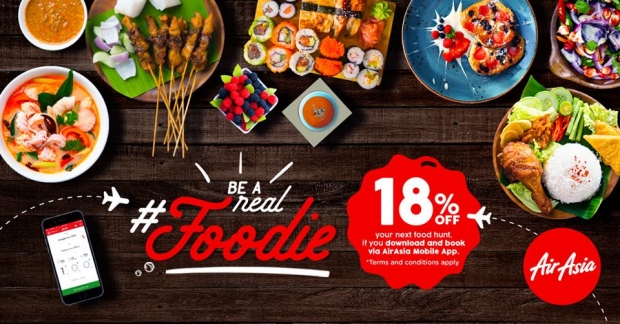 Get up to 18% off flights when you embark on your next Foodie escapades between 1 Oct 2017 to 31 Jan 2018 with our Mobile App Exclusive Sale!
Whip out your phone now. Promo ends 13 Aug, terms and conditions apply.
Terms and Conditions:
• A non-refundable processing fee is applicable for payments via credit, debit or charge card • Fare includes airport taxes (except for selected airports where airport tax is collected at the point of departure) • Seats are limited and may not be available on all flights • Valid for new purchases only • All fares are quoted for single journey (one-way) only • All taxes must be paid at the time of purchase unless otherwise stated • Foreign fares are subjected to currency exchange rates • Offer is subject to availability and
AirAsia's Terms and Conditions of Carriage
• No refunds are permitted after payment has been made • Guests travelling need to provide all necessary travel documents (eg valid passport, visa where applicable etc) at the time of departure • AirAsia reserves the right to deny guests from boarding without proper documentation • Full payment shall be made upon booking • Changes to flights and dates are permitted subject to change fees • Changes to name are not permitted • Only available for online bookings at
www.airasia.com
Check out AirAsia Facebook Page for more details about this offer and to book your seats now!