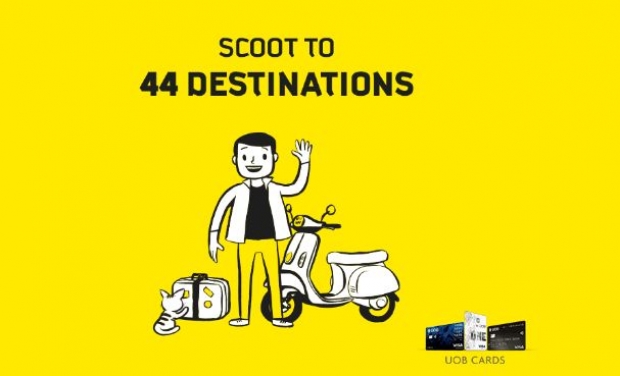 20% off 44 Scoot destinations!
Enter Promo code ILOVEUOB to get 20% off eligible Economy and ScootBiz fares
| | | |
| --- | --- | --- |
| Destinations | Travel Period | Discount |
| Perth | Travel By 30 Nov 17 | 20% Off |
| Gold Coast | Travel By 30 Nov 17 | 20% Off |
| Sydney | Travel By 30 Nov 17 | 20% Off |
| Melbourne | Travel By 30 Nov 17 | 20% Off |
| Nanjing | Travel By 30 Nov 17 | 20% Off |
| Qingdao | Travel By 30 Nov 17 | 20% Off |
| Tianjin | Travel By 30 Nov 17 | 20% Off |
| Hangzhou | Travel By 30 Nov 17 | 20% Off |
| Guangzhou | Travel By 15 Nov 17 | 20% Off |
| Shenyang | Travel By 30 Nov 17 | 20% Off |
| Dalian | Travel By 30 Nov 17 | 20% Off |
| Quanzhou | Travel By 30 Nov 17 | 20% Off |
| Haikou | Travel By 31 Oct 17 | 20% Off |
| Ningbo | Travel By 30 Nov 17 | 20% Off |
| Shenzhen | Travel By 15 Nov 17 | 20% Off |
| Wuxi | Travel By 30 Nov 17 | 20% Off |
| Xi'an | Travel By 30 Nov 17 | 20% Off |
| Zhengzhou | Travel By 30 Nov 17 | 20% Off |
| Jinan | Travel From 29 Oct – 30 Nov 17 | 20% Off |
| Hong Kong | Travel By 15 Nov 17 | 20% Off |
| Amritsar | Travel By 30 Nov 17 | 20% Off |
| Chennai | Travel By 30 Nov 17 | 20% Off |
| Jaipur | Travel By 30 Nov 17 | 20% Off |
| Bengaluru | Travel By 30 Nov 17 | 20% Off |
| Kochi | Travel By 30 Nov 17 | 20% Off |
| Hyderabad | Travel By 30 Nov 17 | 20% Off |
| Lucknow | Travel By 30 Nov 17 | 20% Off |
| Tiruchirappalli (Trichy) | Travel By 30 Nov 17 | 20% Off |
| Langkawi | Travel By 15 Nov 17 | 20% Off |
| Yangon | Travel By 16 Nov 17 | 20% Off |
| Cebu | Travel By 30 Nov 17 | 20% Off |
| Kalibo (Boracay) | Travel By 30 Nov 17 | 20% Off |
| Kuching *New | Travel From 29 Oct – 30 Nov 17 | 20% Off |
| Athens | Travel By By 24 Mar 2018 | 20% Off |
| Chiang Mai | Travel By 16 Nov 17 | 20% Off |
| Hat Yai | Travel By 15 Nov 17 | 20% Off |
| Phuket | Travel By 15 Nov 17 | 20% Off |
| Krabi | Travel By 15 Nov 17 | 20% Off |
| Ho Chi Minh City | Travel By 30 Nov 17 | 20% Off |
| Hanoi | Travel By 30 Nov 17 | 20% Off |
| Dhaka | Travel By 30 Nov 17 | 20% Off |
| Macau | Travel By 15 Nov 17 | 20% Off |
| Kaohsiung | Travel By 16 Nov 17 | 20% Off |
| Jeddah | Travel By 05 Oct 17 | 20% Off |
Redeem S$50 Scoot e-voucher with UOB Rewards for just 4000UNI$ at uob.com.sg/rewards to offset your flight purchase! What greater way to save!

Sale Period : 1000hr 08 Sep 2017 (Fri) – 2359hr 11 Sep 2017 (Mon)
Terms and Conditions: Promotional code is case-sensitive and the discount applies to selected base fare only. Promotional codes are valid for travel originating out of Singapore on selected Scoot flights booked between (GMT+8) 1000hrs 08 Sep 2017 and 2359hrs 11 Sep 2017. Taxes are subject to change due to currency fluctuations. Blackout periods may apply during school holidays and event periods. Unless stated otherwise, Economy Fly fares exclude checked baggage, meals and inflight entertainment. Offer is valid for online bookings made by UOB Cards through flyscoot.com/en/uobscoot Full payment is required at the point of booking, and must be made with UOB cards. Payment processing fees per guest segment are not included. Full list of fees is available at www.flyscoot.com. Seats are limited and may not be available on all flights or all dates. Bookings are not refundable except as provided in the Conditions of Carriage. All the terms and conditions are available at www.flyscoot.com.
Payment must be made with UOB Credit or Debit Cards. The promotion is applicable to UOB Credit or Debit Cards issued in Singapore only. UOB assumes no liability or responsibility for the acts or defaults of the merchant or defects in the goods and services offered in the promotion. UOB is not an agent of the merchants. Any dispute about the quality or service standard must be resolved directly with the respective merchants. The merchants may impose conditions for the redemption of the goods or services. UOB will not be responsible for any injury, loss or damage suffered as a result of the redemption or usage of the goods and services. While the information provided herein is believed to be reliable as at the date of email blast, UOB makes no representation or warranty whether expressed or implied, and accepts no responsibility or reliability for its completeness or accuracy. All information is accurate at time of email blast. United Overseas Bank Limited Co. Reg. No. 193500026Z.

Check out Scoot for more details about this offer and to book your seats now!