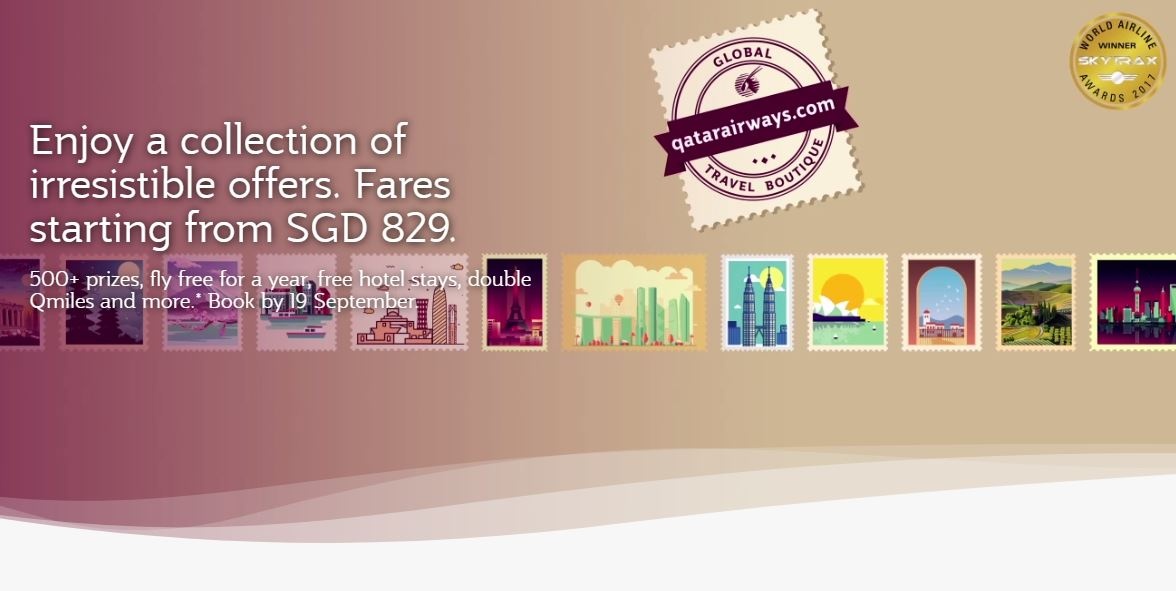 Create your own travel collection

Experience an exceptional selection of savings and offers with our 'Global Travel Boutique' and start creating memories from around the world.
That's not all, enjoy exclusive advantages when you book on qatarairways.com, including double Qmiles, complimentary hotel stays in Doha and more.
Book your ticket by 19 September 2017 and save up to 55% on Economy and Business Class fares for travel until 31 May 2018.
Save up to 55% on Economy Class fares and up to 40% on Business and First Class fares for flights to more than 150 places around the world.*
Take advantage of discounts of up to 40% off Business and First Class fares when you book for two, four, six or eight people.*
Exclusively on qatarairways.com, enjoy an additional discount on Economy Class fares when you book for three or more people. *
Destinations
Economy Class
Fare from
Premium Class
Fare from
Istanbul
SGD 742
SGD 4,019
Frankfurt
SGD 897
SGD 4,669
Stockholm
SGD 901
SGD 4,372
Athens
SGD 916
SGD 4,564
Milan
SGD 923
SGD 4,390
Rome
SGD 928
SGD 4,304
Zurich
SGD 955
SGD 4,672
Amsterdam
SGD 986
SGD 4,654
Helsinki
SGD 986
SGD 4,577
Copenhagen
SGD 1,011
SGD 4,389
Paris
SGD 1,017
SGD 4,404
London
SGD 1,029
SGD 4,861
Oslo
SGD 1,072
SGD 3,962
Chicago
SGD 1,273
SGD 7,483
New York
SGD 1,294
SGD 5,682
Cape Town
SGD 1,339
-
Los Angeles
SGD 1,354
SGD 5,648
Terms and Conditions apply.
Check out Qatar Airways for more details about this offer and to book your seats now!


Example Fares
Singapore - Frankfurt
20 Nov 2017 (Mon) - 26 Nov 2017 (Sun)
SGD 896.20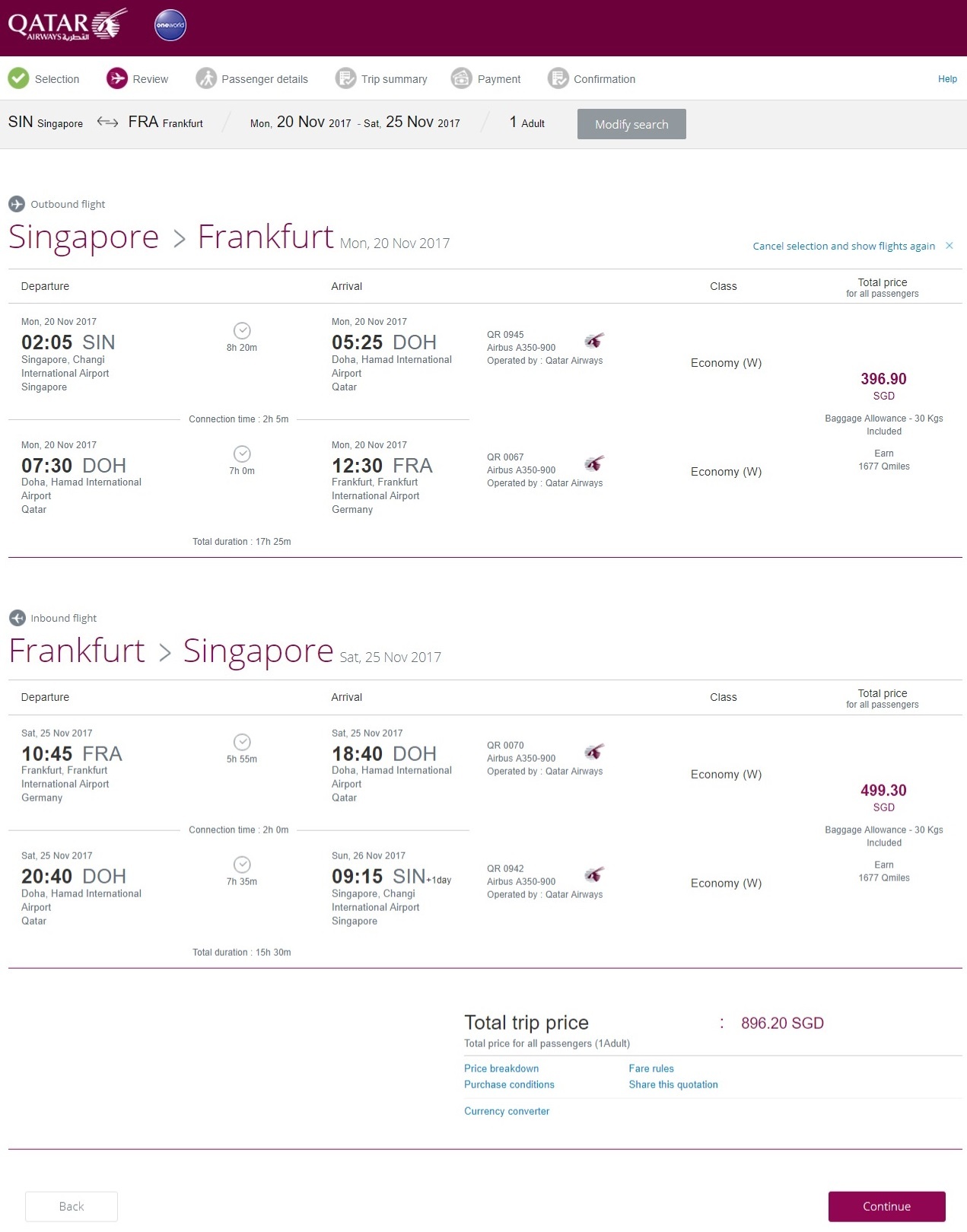 Singapore - Amsterdam
13 Feb 2018 (Tue) - 22 Feb 2018 (Thu)
SGD 985.40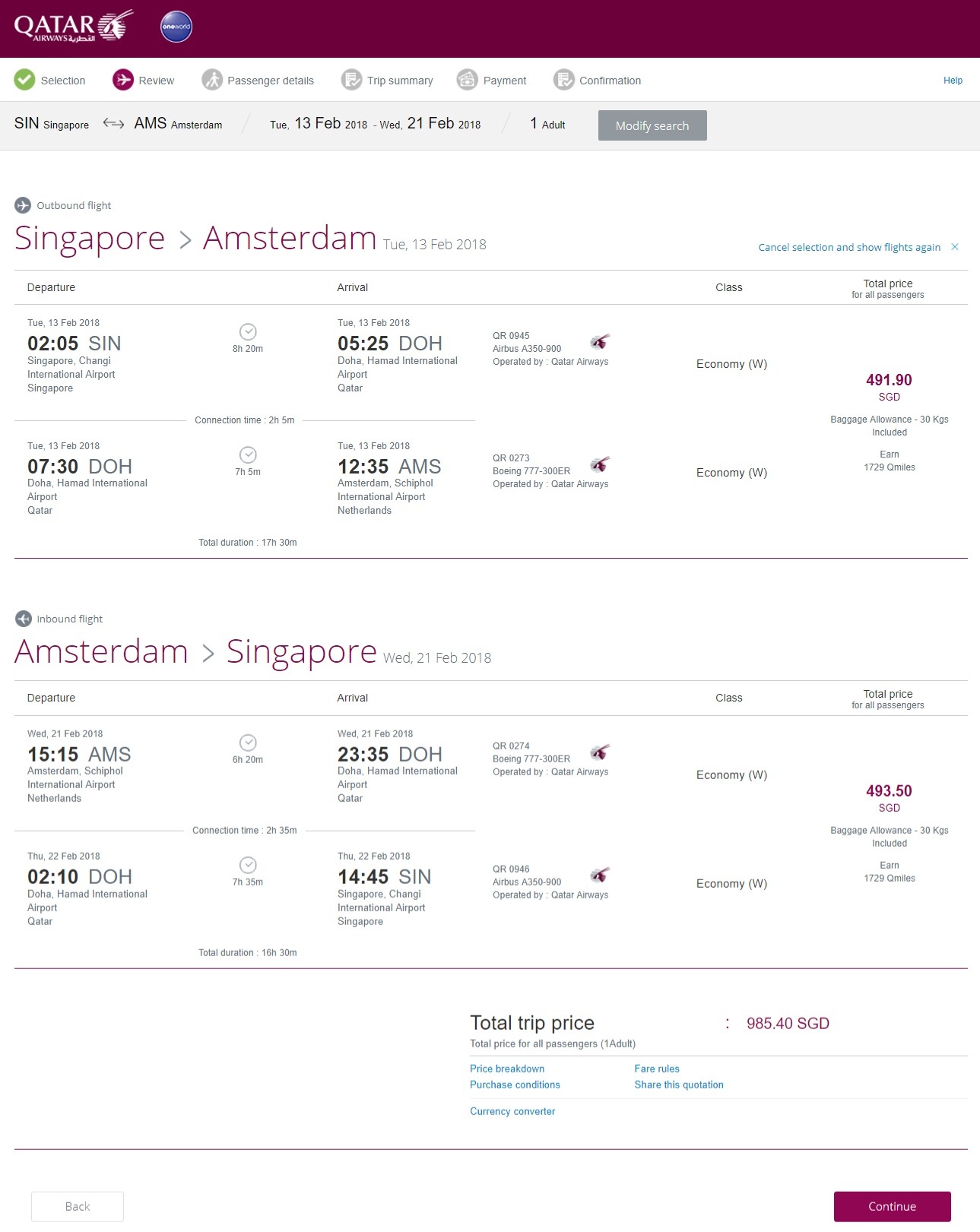 Singapore - Paris
28 Dec 2017 (Thu) - 09 Jan 2018 (Tue)
SGD 1041.70