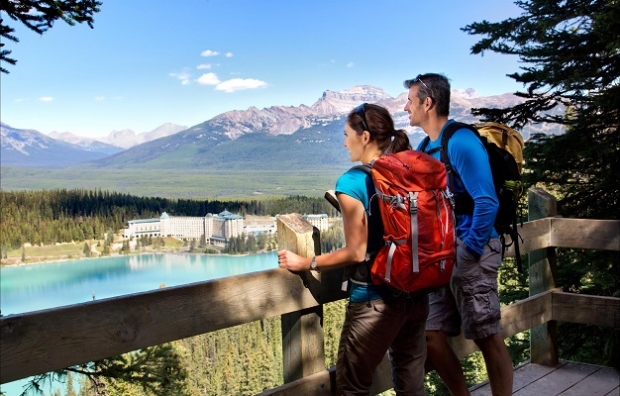 Night on us, Dine for Less.

Enjoy a complimentary 3rd, 4th or 5th* night at any of the participating Fairmont Hotel & Resorts properties and enjoy 20% off** dining charges when you pay with your American Express® Card.
To make reservation:
- Minimum night varies by property. Offer is only valid for participating properties.
- Black-out dates apply and vary by properties

Terms and Conditions:
Offer is valid for stays between now and 31 March 2018 (both dates inclusive), when you book between now and 31 December 2017.
For reservations or more information, please visit fairmont.com/amex-comp-night-plus or click here for a complete listing of contact numbers. When booking, promo code "PAM3" is required to receive the offer.
Offer is subject to availability of rooms at participating Fairmont Hotels & Resorts locations at time of booking.
Offer valid for new bookings only, is not applicable to group bookings, is non-transferable, and cannot be combined with other offers/promotions/savings.
Advance reservation are required. Deposit, cancellation, and black-out dates apply and vary by property. For more details, visit http://www.fairmont.com/americas/amex-blackout-dates/
To be eligible for the offer, reservations must be made and paid for with any American Express Card.
Eligible American Express Cards are qualifying personal American Express Cards issued by American Express International Inc. in Singapore, including American Express Cards issued by DBS Bank Limited, United Overseas Bank Limited and Citibank Singapore Limited. American Express Corporate Cards are not eligible.
Rates are in currency of the host hotel, per room, per night, based on double occupancy.
Rates do not include taxes, gratuities, fees, or resort charges.
*Reservation must be consecutive night stay at one hotel to qualify. A stay is defined as consecutive nights in the same hotel or resort, regardless of the number of check-ins/check-outs that may occurs.
Offer requires a minimum of 2 night consecutive stay.
Your nightly rate is pre-discounted by 33% of the cost of the third night, 25% of the cost of the fourth night, or 20% off the fifth night to reflect the additional night as a discount off the daily rate when booking.
**Receive 20% off Food and Beverage charges that are billed directly to the room account. Discount is applied at checkout. 20% off dining at restaurants and bars managed by Fairmont Hotels & Resorts.
Fulfillment of offer is the sole responsibility of Fairmont Hotels & Resorts.
American Express acts solely as payment provider and is not responsible or liable in the event that such services, activities and benefits are not provided or fulfilled by the merchant. Card Members acknowledge that any disputes in relation to the above are to be directed solely to the merchant providing such services, activities or benefits.
American Express and Fairmont Hotels & Resorts reserve the right to change the Terms and Conditions at any time without prior notice. Should there be any dispute, the decision of American Express and Fairmont Hotels & Resorts shall be final.
Check out American Express for more details about this offer and to see all deals exclusive for cardholders!