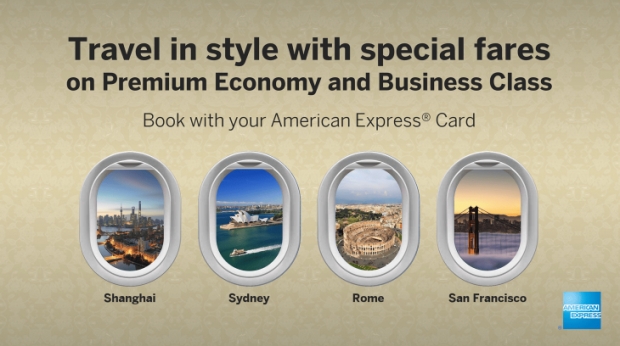 Travel in Style on Singapore Airlines' award winning Business Class and Premium Economy Class. Experience priority boarding and indulge in the celebrated Book the Cook cuisine while you unwind in greater comfort. Book with your American Express Card and redeem a Samsonite RED Kharris 25"Spinner*.

Sale Period
From 5 to 31 October 2017

Travel Period
Premium Economy Class: From 19 October 2017 onwards
Business Class: From 8 October 2017 onwards
Fares to Southeast Asia
Advance purchase requirement:
Business Class: 7 days before travel
Fares to China, Hong Kong and Taiwan
Advance purchase requirement:
Premium Economy Class: 30 days before travel (Beijing only)
Premium Economy Class: 45 days before travel (except Beijing)
Business Class: 7 days before travel (Hong Kong only)
Business Class: 14 days before travel (except Hong Kong)
Fares to Japan and Korea
Advance purchase requirement:
Premium Economy Class: 45 days before travel | Business Class: 14 days before travel
Fares to South West Pacific
Advance purchase requirement:
Premium Economy Class: 45 days before travel | Business Class: 7 days before travel
Fares to Europe
Advance purchase requirement:
Premium Economy Class: 60 days before travel | Business Class: 21 days before travel
Fares to South Africa
Advance purchase requirement:
Premium Economy Class: 30 days before travel | Business Class: 7 days before travel
Fares to West Asia
Advance purchase requirement:
Premium Economy Class: 14 days before travel (For India only) | 30 days before travel (For Dubai only)
Business Class: 3 days before travel
Fares to America
Advance purchase requirement:
Premium Economy Class: 60 days before travel
Business Class: 14 days before travel (Houston only) | Business Class: 21 days before travel (except Houston)
Terms and Conditions:

#Please refer to the individual Cards featured on amex.co/singaporeairf or detailed Terms and Conditions on earning KrisFlyer miles and exclusive Singapore Airlines Travel Privileges when you charge your purchases to your Card as well as amex.co/SIAoffers for offer details on travel benefits on your Card. Minimum spend on Credit Card is applicable for Singapore Airlines Travel Privileges.

*The American Tourister Packable Duffel and Samsonite RED Kharris 25" Spinner are limited to the first 1,000 and 350 American Express Card Members who make a minimum eligible spend of S$1,588 and S$4,888 in one (1) transaction respectively on singaporeair.com
between 5 and 31 October 2017. Each Card Member is allowed to redeem a maximum of one (1) item. A Redemption Letter will be sent to Card Member via post within 6 to 9 weeks from the end of the Singapore Airlines Fare Promotion on 31 October 2017. Gift images are
for illustrative purposes only and American Express reserves the right to change the colour and/or model at their sole and absolute discretion. Gift redemptions are on a first come, first served basis. While stocks last. 1 – 5. For detailed Terms and Conditions, please visit (1, 2) amex.co/octfaregifts

Check out Singapore Airlines for more details about this offer and to book your seats now!