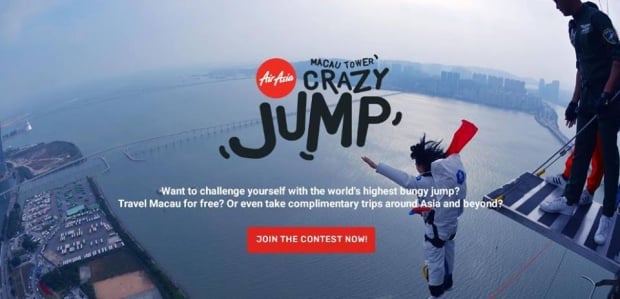 Want to challenge yourself with the world's highest Bungy Jump?

Here's how you can do it:
Upload a photo or video to Instagram showcasing your Crazy Jump Day outfit idea and which AirAsia destination it represents by 2359hrs (GMT+8), 10 Nov 2017
Hashtag #AirAsiaCrazyJump2017
Tell us why you deserve to win in the caption of your submission.
What's more, the winner of the Bungy Jump Challenge will stand a chance to win a trip to any AirAsia destination as well as a free Go-Pro!

Make sure your account is set to public, otherwise we can't see your entries!
*For participants residing in China, you are welcome to apply via Weibo. Please refer to AirAsia official Weibo account.

WHO CAN JOIN?
Anyone! As long as you weigh between 40kg - 118kg
(in costume + jumper harness) and have a healthy sense of adventure.
*Shortlisted participants will receive a direct message on Instagram requiring them to provide their email for travel arrangements.
Start creating your AirAsia Presents Macau Tower Crazy Jump Day costume and you could be one of the 30 lucky participants on a flight to Macao!
Registration closes on 19 November 2017.
IMPORTANT NOTE: All participants are required to jump with a costume which meets the safety requirements.
Please refer to the T&C for more information.

Check out AirAsia Promotion Page for more details about this offer and to start sending your entry now!