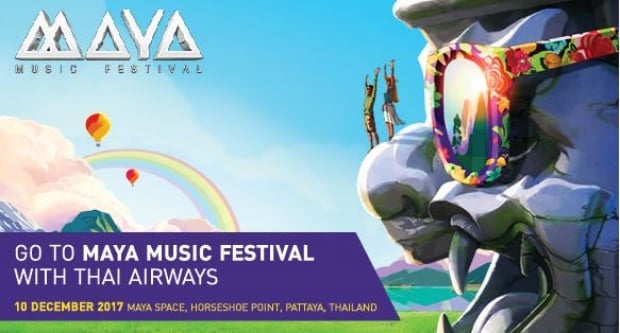 GO TO MAYA WITH THAI AIRWAYS

Buy ticket online and travel to Bangkok During 1- 15 DEC 2017.
Get 2 FREE tickets "Maya music Festival"

To get Maya music festival ticket click register at confirmation page

Terms and conditions for Maya music festival ticket
- Tickets are non transferable and non refundable.
- This ticket is valid for date of show issued only,
- Admission to 1 person per 1 ticket.
- To be allowed access to MAYA Music Festival you must be minimum 18 years of age. (People who were born before 10 December 1999).
- Gate will open at 12:00
- People without passport or copy of passport cannot enter the festival
- Always wear wristband at all time
- No camera and video camera allowed
- No recorder allowed
- No Selfie stick allowed
- No Re-entry

Check out Thai Airways for more details about this offer and to book your seats now!