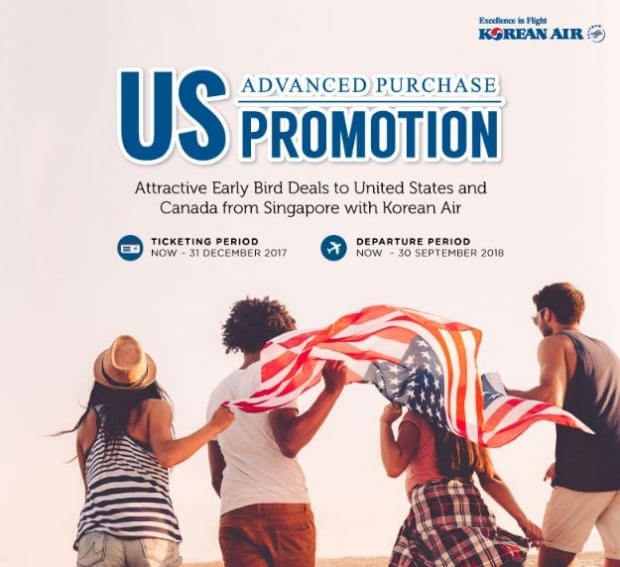 All-in Economy and Business Class Fares | Attractive Early Bird Deals to America and Canada from Singapore with Korean Air
Book now until 31 December 2017 | Travel now until 30 September 2018
Destinations
All-in Economy
Return Fare from
All-in Business
Return Fare from
San Francisco
-
SGD 5,735
Los Angeles
-
SGD 6,035
Seattle
SGD 1,435
SGD 5,885
Vancouver
SGD 1,400
SGD 6,200
Las Vegas
SGD 1,435
SGD 7,235
New York
SGD 1,435
SGD 6,285
Honolulu
SGD 1,435
SGD 7,746
Toronto
-
SGD 7,909
Atlanta
SGD 1,385
SGD 8,235
Dallas
SGD 1,535
SGD 7,235
Washington
SGD 1,935
SGD 8,135
Chicago
-
SGD 6,735
Terms and Conditions:
Valid for sale from Korean Air Singapore website.
Fares is including taxes and fuel surcharge.
Subject to availability & changes due to currency fluctuations.
Fares are sold in SGD.
Fare is only available for Korean Air operated flights departing from Singapore to selected destinations in United States and Canada as listed.
Fares are per person in Economy Class or Business Class return as stated.
Other Terms and Conditions apply.
Check out Korean Air to view full Terms and Conditions that apply.