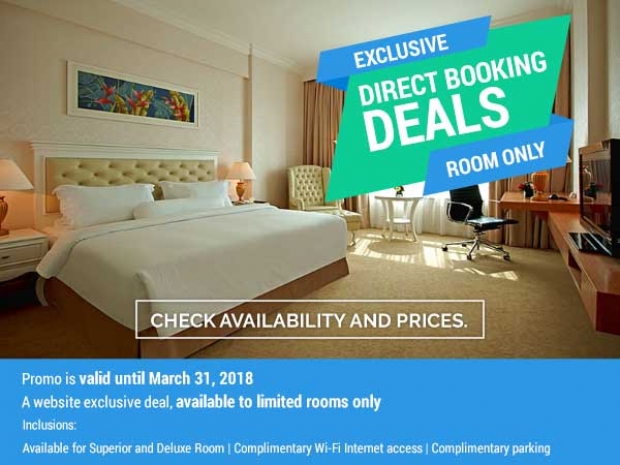 Bigger savings are waiting for you when you book directly on The Royale Bintang Damansara website. Limited number of rooms available.

Inclusions:
Complimentary WiFi
Complimentary newspaper
Complimentary parking
Complimentary bottled water
Conditions: Stay Period: 14 November 2017 to 31 March 2018
Reservation Policies: *All times indicated in the policies are expressed in hotel's local time (GMT +08:00).
Arrival Time: 02:00 PM - Departure Time: 12:00 PM
Children Policy: This rate plan is not applicable to children.
Prepayment: Full prepayment is required to confirm your reservation. This is nonrefundable.
Modification: Not Allowed
Cancellation: Not Allowed
No-show: Your 100% prepayment will be forfeited if you do not arrive within 24 hours of the check-in date and time of the hotel.
Card Fraud Control: To protect credit card owners from fraud, the guest is required to present the actual credit card used in making the online booking and a valid government issued PHOTO ID of the card owner upon check-in. The hotel reserves the right to refuse the guest to check-in for failure to comply with this requirement. If the card owner is not the one staying at the hotel, the guest is required to present clear photocopies of the front and back of the credit card used, a valid government issued photo ID of the card owner along with an authorization letter stating that the credit card holder has allowed the guest to use his/her card for the reservation. The hotel may cancel a confirmed reservation if a booking is suspected to be made using a fraudulent credit card.
Hotel Policies
Children Breakfast Policy: Complimentary buffet breakfast for child below 6 years old. Half price to be charged for child aged 6 to 12.
Durian Policy: Durian fruits are strictly forbidden in our hotel.
Extra Bed: Extra bed are available at RM130.00 nett (with 1 breakfast) and RM110.00 nett (without breakfast).
Hotel Policy: Connecting room are available on request & subject to availability.
Non Smoking: Non smoking room is on request and subject to availability.
Pets Policy: Pets are not allowed in our hotel.
Tourism Tax Policy: Rates quoted are excluding the Tourism Tax of RM10.00 nett per room, per night for all foreign guests effective as of 1st September 2017, to be paid separately upon check-out.

Visit Royale Chulan Damansara for more details about this offer and to book your accommodation now!