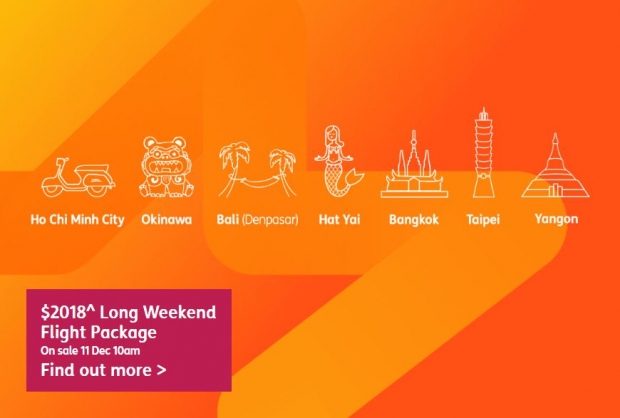 The Jetstar Ultimate Long Weekend Flight Package is back!

7 return flights to 7 amazing destinations over 7 public holiday weekends, at just $2,018 NETT per person! The package is INCLUSIVE of taxes, fees and booking and service fees, and 20kg checked baggage allowance for all flights.

How to secure your Jetstar Long Weekend Flight Package:
Fill in your full details on our form available from 10am on Monday 11 December 2017.
We will contact you via phone to confirm your booking and collect payment via credit card.
Book 9 annual leave days with your company.
Enjoy your long weekends ahead in 2018!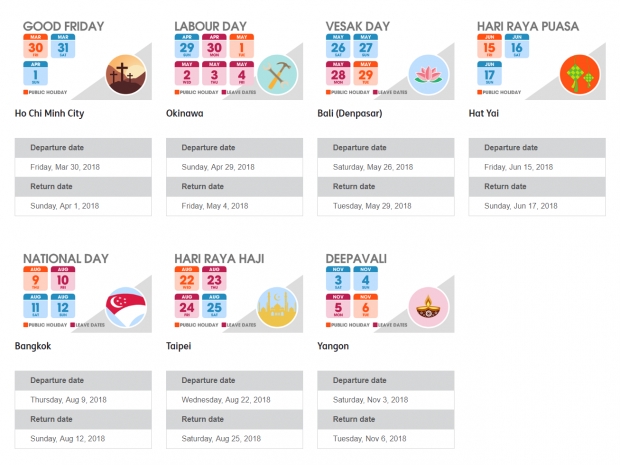 Things to note
This package consists of 7 RETURN FLIGHTS to 7 DESTINATIONS for 1 passenger only, INCLUSIVE of 20kg checked baggage allowance for all flights, for a NETT price of $2018.
A maximum of 4 packages can be booked per person.
There is NO child, family or group discount.
All flights sold as part of the Jetstar Long Weekend Flight Package are non-transferable and non-refundable. Any flight not travelled will be forfeited and no refund will be provided.
Flight changes are permitted, subject to change fees and fare difference.
Accommodation and tours are NOT included in this Jetstar Long Weekend Flight Package.
The booking form will be available on Monday 11 December at 10am sharp. Successful submission of the form does not indicate confirmation of the package.
A Jetstar team member will be in contact for payment on Monday 11 December after 12pm.
Payment is by credit card only, booking and service fee will be waived.
Check out Jetstar for more details about this offer and to book your 2018 getaway now!