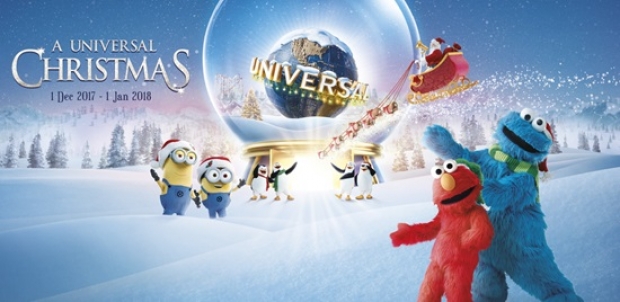 Mastercard holders can enjoy an exclusive experience at Universal Studios SingaporeTM on 16 and 17 Dec 2017 from 5pm to 9pm. Enjoy a festive buffet dinner while listening to acapella group, The Jingles, perform favourite Christmas carols. Partake in exclusive character meet & greets and join in the snowy Christmas march with Santa and friends. Top it all off with a present from Santa Claus!
Limited Slot Available!

Package includes:
One (1) Universal Studios Singapore Adult Season Pass
One (1) Exclusive Program With Four VIP Experiences
One (1) Christmas Gift
One (1) Festive Buffet Dinner
Exclusive meet-and-greet + photo sessions with selected characters
Terms and Conditions:
By participating in the event, the Participant is deemed to have accepted and agreed to be bound by these Terms and Conditions and any other instructions, terms and conditions that Resorts World Sentosa may issue from time to time.
Resorts World Sentosa shall not be liable for any misuse of the guest's participants or the guest's submitted particulars, in the course of taking part in the event.
Each Participant hereby grants his/her consent to Resorts World Sentosa to collect any personal data/information about him/her in respect of his/her participation in the event.
Resorts World Sentosa shall not be liable to the Participants for any injuries, losses or damages in respect of, in connection with and/or arising from the event.
Resorts World Sentosa reserves the right to withdraw or cancel the event and to amend or change these Terms and Conditions at any time for whatever reason and without giving prior notice to the guests. The decision of the Resorts World Sentosa on all matters relating to or in connection with the event is final, and no correspondence will be entertained.
Resorts World Sentosa reserves the right to publish any guests' images and details for any purpose whatsoever without having to pay any fee or compensation to the guests.
Check out Resorts World Sentosa for more details about this offer and to see all deals up for grabs!