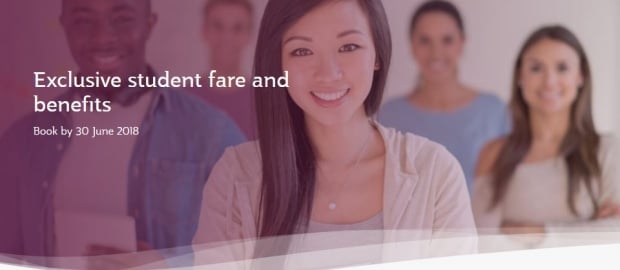 Exclusive Student Fare and Excess Baggage Allowance

Enjoy student benefits when you travel with Qatar Airways to selected cities in Europe, Americas, Africa and the Middle East.
Get additional 5% discounted fares, one free-of-charge date change and excess baggage allowance of additional 10 kg for Europe, Africa and the Middle East, and additional 1 piece of 23kg for destinations in Americas.
Enter the promo code STUDPCSG when you search for your flight on qatarairways.com/sg.
Book by 30 June 2018 and travel by 31 December 2018.*
Selected cities include:
Europe - Amsterdam, Ankara (Turkey), Athens, Barcelona, Berlin, Birmingham, Brussels, Cardiff, Copenhagen, Dublin, Edinburgh, Frankfurt, Geneva, Helsinki, Istanbul, London, Madrid, Manchester, Milan, Moscow, Munich, Nice, Oslo, Paris, Pisa, Prague, Rome, St. Petersburg, Stockholm, Venice, Vienna, Zurich
Americas - Atlanta, Boston, Chicago, Dallas, Houston, Los Angeles, Miami, New York, Philadelphia, Washington, Montreal
Africa - Nairobi, Khartoum, Tunis
Middle East - Baghdad, Basra, Najaf
Fares displayed below are before the 5%* discount.
*Terms and conditions apply.
Destinations
Economy Class
Fare from
Zurich
SGD 848
Copenhagen
SGD 897
Amsterdam
SGD 963
Moscow
SGD 975
Rome
SGD 983
London
SGD 1,004
Barcelona
SGD 1,015
Istanbul
SGD 1,051
Frankfurt
SGD 1,067
Manchester
SGD 1,078
Edinburgh
SGD 1,127
Birmingham
SGD 1,255
Chicago
SGD 1,285
New York
SGD 1,329
Los Angeles
SGD 1,409
Vienna
SGD 1,548
Boston
SGD 1,607
Atlanta
SGD 1,619
Washington DC
SGD 1,805
Montreal
SGD 2,243
Nairobi
SGD 3,203
Terms and Conditions:
Sales period: 1 January to 30 June 2018.
Travel period from 1 January 2018. All travel must be completed by 31 December 2018.
Eligibility rule: Passenger must be a student with a valid and current Student Identification card, university letter and/or Valid Student Visa.
Failure to produce the required identification proof at the airport for student status will enable the airline to cancel the journey and the ticket without any refund.
Offer only available when booking online through www.qatarairways.com/sg and travelling on a Qatar Airways operated flight from Singapore to the selected destinations.
Offer applies to Economy Class one way and return tickets.
Purchases can only be made through www.qatarairways.com/sg by entering the given promo code at the time of booking.
Fares are subject to change due to currency and taxes fluctuations.
Seats are limited and subject to availability.
Qatar Airways will not be responsible for any fare differences if customers fail to enter the given promo code at the time of booking.
Total baggage allowance to the selected Europe, Africa and Middle East cities is 40kg per student.
Total baggage allowance to the selected Americas cities is 3 pieces at 23kg each per student.
One free-of-charge date change available. Please refer to the fare rules at the time of booking for cancellation and No-show conditions.
Other terms and conditions apply, please review at the time of booking.
Check out Qatar Airways for more details about this offer and to book your seats now!