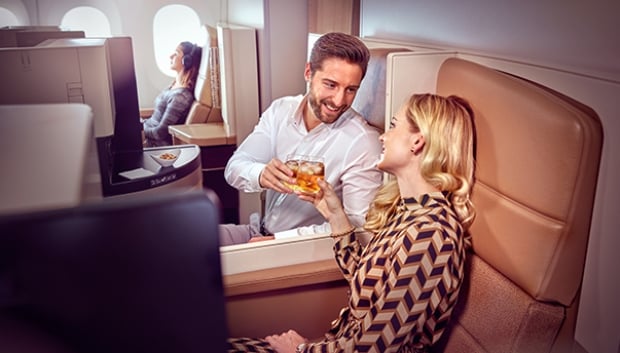 Welcome the New Year with our Business Class Companion Deals! Take advantage of great discounts on Business Class fares to exciting cities around the world. Book by 20 January for travel until 30 November 2018. The below shown fare is for one guest.
Destinations
Economy Class
Fare from
Abu Dhabi
SGD 2673
Amman
SGD 4302
Amsterdam
SGD 4166
Athens
SGD 4170
Bahrain
SGD 3806
Baku
SGD 4448
Barcelona
SGD 4237
Beirut
SGD 4311
Belgrade
SGD 3674
Brussels
SGD 4465
Cairo
SGD 5011
Casablanca
SGD 6333
Copenhagen
SGD 4133
Dammam
SGD 5138
Dubai
SGD 2673
Dublin
SGD 4748
Dusseldorf
SGD 4902
Edinburgh
SGD 4292
Jeddah
SGD 4118
Kuwait
SGD 3819
London
SGD 4167
Los Angeles CA
SGD 5876
Madrid
SGD 4951
Manchester
SGD 4351
Milan
SGD 4057
Moscow
SGD 3972
Munich
SGD 4287
Muscat
SGD 3451
New York NY
SGD 5436
Paris
SGD 3856
Prague
SGD 4711
Riyadh
SGD 4119
Rome
SGD 4078
Seychelles
SGD 7264
Toronto
SGD 8275
Venice
SGD 4924
Washington DC
SGD 6351
Zurich
SGD 3977
Terms and Conditions:

1. These fares are valid for booking until 20 January, 2018 for travel until 30 November, 2018.
2. Offers are subject to availability at the time of booking online with Etihad Airways, these are special fares with limited availability.
3. *Fares are inclusive of applicable taxes and fuel surcharges, the break down will be shown during the online booking process. Fares are correct at the time of publication; however, the levels may vary based on fluctuations in the tax amount.
4. Valid visas and travel documents are the responsibility of our Guests.
5. Please check the individual fare rules for detailed terms and conditions.
6. Flight/Day restriction and Blackout periods may apply.
7. The Airport taxes are subject to change without prior notice and will be confirmed at the time of booking.
8. Weekend surcharges may apply.
9. Advance purchase of 3 to 10 days apply.
10. Other terms and conditions apply.

Check out Etihad Airways for more details about this offer and to book your seats now!