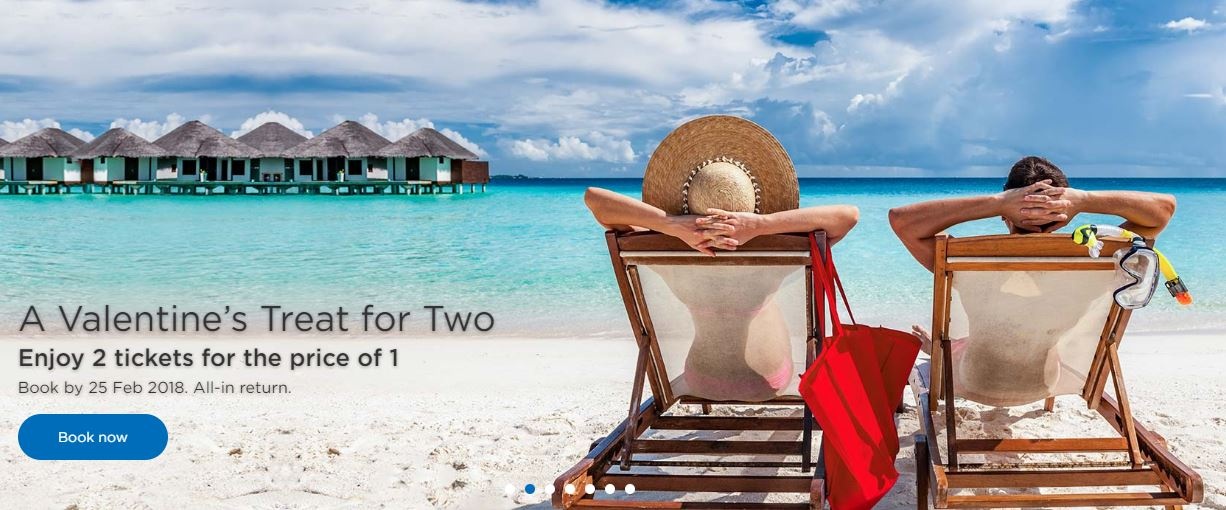 Celebrate Valentine's Day with more than just roses and kisses. Surprise your loved one with an unforgettable romantic break to idyllic destinations with our Companion Offer on Business Class.
To enjoy this special limited-time offer, book a flight for two using the promo code below.
CODE: FLY2GETHER
Book: Now until 25 Feb 2018
Travel: 23 Feb - 31 Jul 2018
Fly from Singapore to
Business Class
Special fares for a pair of ticket from SGD
Kuala Lumpur
1,292
Penang
1,392
Langkawi
1,392
Alor Setar
1,692
Kuala Terengganu/ Kota Bharu
1,692
Kuantan
1,692
Kota Kinabalu
1,592
Sandakan/ Tawau
1,892
Labuan
1,892
Kuching/ Miri
1,492
Bintulu/ Sibu
1,892
Bandar Seri Begawan
2,292
Manila
2,296
Jakarta
1,900
Bali/ Surabaya
1,910
Phnom Penh/ Siem Reap
1,938
Bangkok
1,434
Phuket
1,934
Ho Chi Minh City
1,934
Hanoi
1,942
Taipei
2,914
Hong Kong
2,960
Guangzhou/ Xiamen
3,106
Shanghai/ Beijing
3,106
Chongqing/ Nanjing
3,106
Fuzhou
3,106
Delhi
2,282
Mumbai
2,326
Chennai
2,312
Hyderabad
2,370
Bengaluru
2,342
Colombo
2,406
Dhaka
2,460
Kathmandu
2,368
Terms & Conditions:
This promotion is not eligible for one passenger travel, it must be 2 passengers travel together. Final fares may vary depending on the routing, passenger class, departure flight, travel period, seats availability and currency fluctuation on the day of ticket purchase. Seats are limited. Additional terms and conditions may apply. Offered details are subject to change without prior notice.
Other terms and conditions apply.