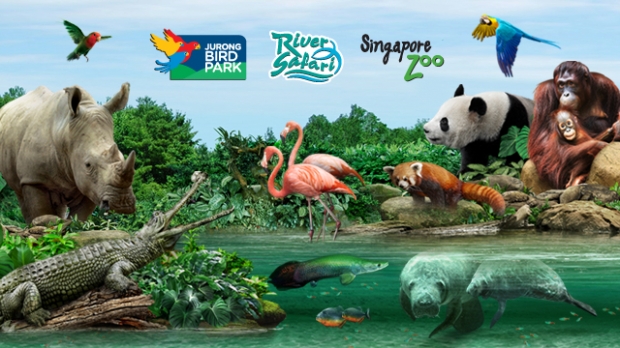 Save 50% on Night Safari admission tickets from 8.15pm. Valid from 1 – 31 March 2018.
Enjoy a complimentary soft drink with food purchase at Jungle Rotisserie, restaurant opens from 5.30pm.

Terms & Conditions:
This ticket, issued by Wildlife Reserves Singapore group inclusive of Wildlife Reserves Singapore Pte Ltd, Singapore Zoological Gardens and The Jurong Bird Park Private Limited (collectively referred to as the "WRS Group" or "WRS"), is subject to the following conditions:
Ticket valid for single entry per stated park, on the stipulated date(s).
Ticket purchased is not refundable or exchangeable for cash or kind.
Park admission is at ticket holder's own risk. WRS Group will not be responsible for any loss, damage or injury sustained by the ticket holder while in the park. Any assistance provided by WRS Group shall not be construed as admission of liability.
Online ticket purchase is not valid for tour groups, travel agents, and school groups.
Other promotions and discounts cannot be used in conjunction with online ticket purchases.
Local Resident's discount is valid for Singaporeans, Permanent Residents and all other FIN holders.
Admission prices are valid for Adult, Child and Senior Citizens:

Child is defined as a park visitor aged 3 to 12 years old.
Senior Citizen is defined as a local resident aged 60 and above.

Senior Citizen NRIC verification required online. FIN (Foreign Identification Number) holders will need to produce their pass over the ticketing counters to purchase Senior Citizen tickets.
For your security and protection, please note that online purchase(s) must be made with credit cards with One-Time Password (OTP) feature.
For online ticket purchase(s), WRS Group reserves the right to verify the proof of identity at point of entry
To enjoy Local Resident's Discount or Senior Citizens' Concession Rate for onsite ticket purchase(s), proof of identity must be produced upon purchase.
Limited to purchases of:

Up to 10 tickets per transaction online;
Up to 5 tickets per transaction onsite.

Admission tickets purchased are eligible for conversion to a Family or Individual Friends of Wildlife, Friends of Bird Park, Friends of Night Safari, Friends of Singapore Zoo and Friends of River Safari membership. Terms and conditions of ticket conversion to membership apply.
Unauthorized duplication or sale of ticket is prohibited.
No claims will be entertained for any lost, torn, defaced or expired ticket or voucher.
Ticket holder agrees not to use photographs/recordings (or reproduction thereof) taken during the park visit for commercial purposes.
WRS Group may take photographs/recordings of any park visitor, and use any photographs, recordings or any other media records (including those displaying the image of the visitor), for any legitimate purpose, including WRS's commercial advertising, promotion and/or marketing, without prior approval or compensation.
In the event of dispute, WRS electronic records shall prevail.
The Management of WRS Group reserves the right to amend the ticket packages, rates and governing terms and conditions without prior notice.
Single Park Ticket
Single park ticket for:

Night Safari includes English commentary tram rides.
River Safari includes Reservoir Cruise.

Admission tickets for Singapore Zoo and Jurong Bird Park exclude tram rides. Tickets are sold separately.
ParkHopper Tickets
ParkHopper tickets are valid for seven (07) days from the chosen date of first visit. Tickets with Night Safari are subject to the specified date and time selected for the visit to the Park.
ParkHopper tickets with:

Night Safari includes English commentary tram rides.
River Safari includes Reservoir Cruise.
Check out Wildlife Reserves Singapore for more details about this offer and to book your tickets now!