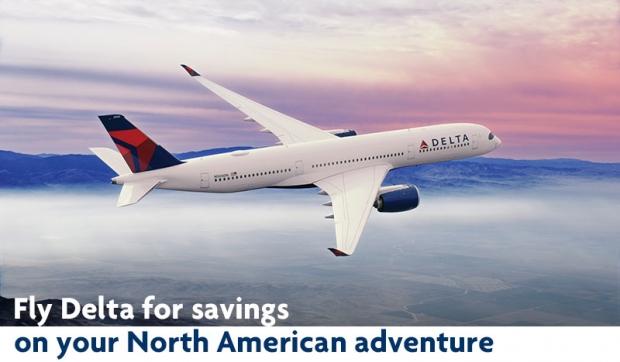 Get away to destinations in USA and Canada!
Want to catch that Broadway musical at Times Square? Planning a road trip through Route 66? How about visiting the Banff National Park? Now you can, when you book Delta Air with UOB Cards!

• 15% discount off bookings* (U/T/X/V)
• Additional 2% off** for bookings made via Delta Reservations (Tel: 6336 3371)
Sale Period: 11 April – 10 May 2018

Terms and Conditions:
Payment must be made with a UOB Credit or Debit Card. The booking and purchasing period of the above fare is valid from 11 April - 10 May 2018. *Destinations exclude Atlanta, Detroit, Minneapolis & Toronto. Blackout dates and flight restrictions apply. Fares shown are based on round-trip purchase in Main Cabin and subject to availability. Surcharges apply and are subject to changes without any prior notice. Fares are not guaranteed unless a reservation is ticketed. These fares are eligible for mileage accrual. UOB Cardmembers are required to provide your frequent flyer program number when making reservation or at check-in. Tickets must be booked and purchased in designated Main Cabin : U /T / X / V (operated by Delta). The offer is valid only on exit-Singapore Delta operated flights. Minimum stay is 12 hours. Maximum stay is 6 months. Date change is permitted with an additional top-up of S$150 but changes to flight/routing are not allowed on the departure flight. U / T / V / X class has to be available. This offer cannot be used in conjunction with any other promotional fares. Promotional fares cannot be upgraded with miles. Other restrictions may apply. Delta has the final authority in the interpretation of these rules. **Extra 2% discount is applicable for bookings created via calling Delta Singapore Reservations team at +65-6336-3371.

Check out United Overseas Bank for more details about this offer and to see all deals up for grabs!