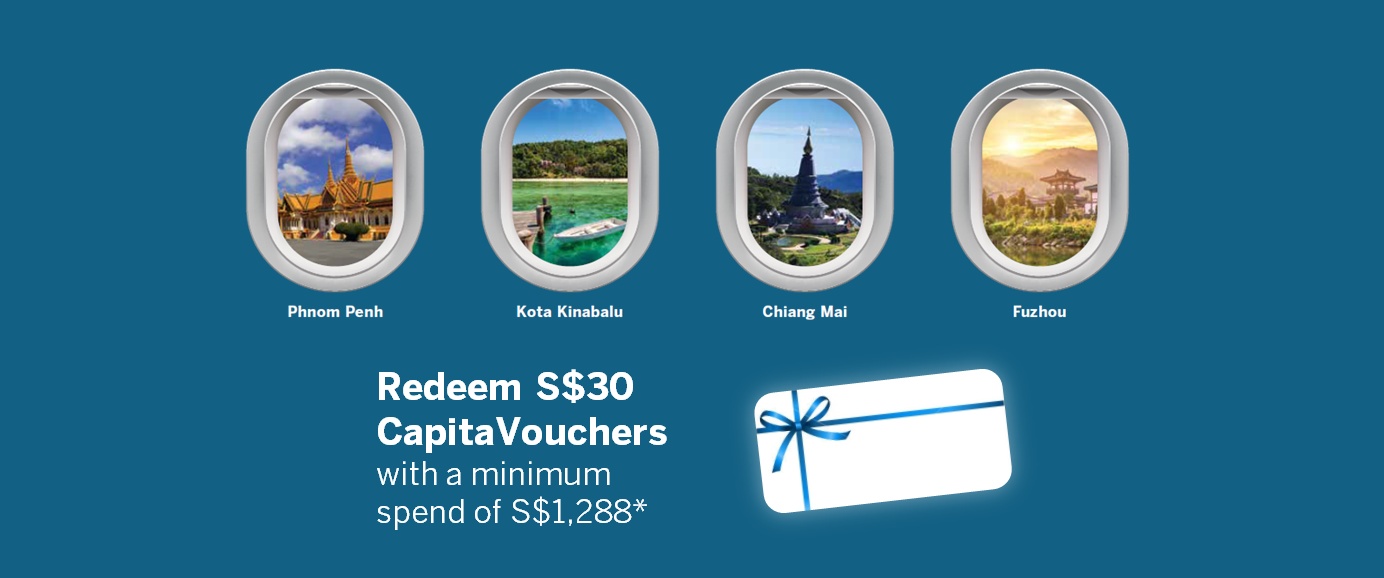 Your window to boundless horizons in the region
There's no better time to plan for your dream getaway with SilkAir. Take advantage of SilkAir special fares and Early Bird fares to over 40 exciting destinations! For American Express® Singapore Airlines Credit Card Members, earn 2 KrisFlyer miles for every S$1 eligible spend, with no cap. Book with your American Express® Card and redeem S$30 CapitaVouchers*. T&Cs apply.

Sales period: 16 May to 10 June 2018
Travel period: 19 May 2018 to 20 January 2019

Not an American Express Singapore Airlines Credit Card Member? Click here to apply now.

Simply book your tickets with an eligible spend of S$1,288 or more in a single transaction on silkair.com or SilkAir mobile app with your American Express Card from 16 May to 15 June 2018. Limited to the first 1,000 Card Members. *T&Cs apply

Australia
Destinations
All-in return
Economy class fares from (SGD)
All-in Early Bird
Economy Class fares from(SGD)
Cairns
649
-
Cambodia
Destinations
All-in return
Economy class fares from (SGD)
All-in Early Bird
Economy Class fares from(SGD)
Phnom Penh
179
-
Siem Reap
-
309
China
Destinations
All-in return
Economy class fares from (SGD)
All-in Early Bird
Economy Class fares from(SGD)
Changsha
-
569
Chengdu
459
-
Chongqing
499
-
Fuzhou
499
-
Kunming
529
-
Shenzhen
-
499
Wuhan
599
-
Xiamen
-
489
India
Destinations
All-in return
Economy class fares from (SGD)
All-in Early Bird
Economy Class fares from(SGD)
Bangalore
-
469
Chennai
-
439
Coimbatore
-
599
Hyderabad
-
629
Kochi
-
489
Kolkata
-
499
Thiruvananthapuram
-
539
Visakhapatnam
-
499
Indonesia
Destinations
All-in return
Economy class fares from (SGD)
All-in Early Bird fares from (SGD)
Bandung
-
199
Denpasar, Bali
-
289
Lombok
299
-
Manado
429
-
Medan
179
-
Semarang
-
179
Surabaya
179
-
Yogyakarta
-
239
Japan
Destinations
All-in return
Economy class fares from (SGD)
All-in Early Bird
Economy Class fares from(SGD)
Hiroshima
589
-
Laos
Destinations
All-in return
Economy class fares from (SGD)
All-in Early Bird
Economy Class fares from(SGD)
Luang Prabang
-
359
Vientiane
-
329
Malaysia
Destinations
All-in return
Economy class fares from (SGD)
All-in Early Bird
Economy Class fares from(SGD)
Kota Kinabalu
199
-
Kuala Lumpur
-
159
Penang
159
-
Maldives
Destinations
All-in return
Economy class fares from (SGD)
All-in Early Bird
Economy Class fares from(SGD)
Male
-
569
Nepal
Destinations
All-in return
Economy class fares from (SGD)
All-in Early Bird
Economy Class fares from(SGD)
Kathmandu
-
679
Philippines
Destinations
All-in return
Economy class fares from (SGD)
All-in Early Bird
Economy Class fares from(SGD)
Cebu
-
249
Davao
-
339
Sri Lanka
Destinations
All-in return
Economy class fares from (SGD)
All-in Early Bird
Economy Class fares from(SGD)
Colombo
-
539
Thailand
Destinations
All-in return
Economy class fares from (SGD)
All-in Early Bird
Economy Class fares from(SGD)
Chiang Mai
339
-
Koh Samui
-
409
Phuket
159
-
Vietnam
Destinations
All-in return
Economy class fares from (SGD)
All-in Early Bird
Economy Class fares from(SGD)
Danang
-
409
Hanoi
-
309
Terms and Conditions:
Special Fares
1. Bookings to be made from 16 May to 10 June 2018, or when seats sell out.
2. The above fares are for Economy class, on per person basis. It includes airfare, SilkAir studio, 30kg check-in baggage allowance, inflight meals (where applicable), associated taxes and fees.
3. Tickets are strictly not refundable and additional charges of USD 50 (all routes except Australia), and USD 200 (Australia routes only) applies for change of flight, date or passenger name.
4. Advertised fares are subjected to seat availability and may change due to currency fluctuations.
5. Valid travel period for departing out of Singapore:
a) Economy Class:
19 May 2018 to 20 January 2019
b) Early Bird fares:
All except West Asia: on/after 30 May
West Asia: on/after 16 June
6. Blackout periods for flights departing out of Singapore applies:
a) Economy Class:
13 to 16 June 2018
8 to 10 August 2018
21 to 23 August 2018
3 to 9 September 2018
17 to 30 November 2018
1 to 24 December 2018
7. Advance purchase:
a) Economy Class: 3 days
b) Early Bird fares:
30 days advance purchase condition applies (All except West Asia)
14 days advance purchase condition applies (West Asia routes)
8. Passengers requiring seats for personal comfort, bulky or fragile items etc are not permitted to purchase these fares for the extra seat.
9. Other terms and conditions apply.
Early Bird Special Fares
1. For booking and full terms and conditions, please click on the preferred fare. All fares shown are all-in return fares and subject to currency fluctuations and seats availability.
American Express Exclusive
The S$30 CapitaVouchers are limited to the first 1,000 Basic Card Members who make a minimum eligible spend of S$1,288 in one (1) transaction on silkair.com, SilkAir mobile app, singaporeair.com or the SingaporeAir mobile app or between 16 May and 15 June 2018. Ticket purchase must be made with an American Express Card, issued by American Express International Inc. in Singapore. Each Basic Card Member is allowed to redeem a maximum of one (1) item for this promotion. A Redemption Letter will be sent to Card Member via post within 8 to 12 weeks from the end of the Promotion on 15 June 2018. Gift images are for illustrative purposes only and American Express reserves the right to change the colour and/or model at their sole and absolute discretion. Gift redemptions are on a first come, first served basis. While stocks last.

Check out SilkAir for more details about this offer and to book your seats now!