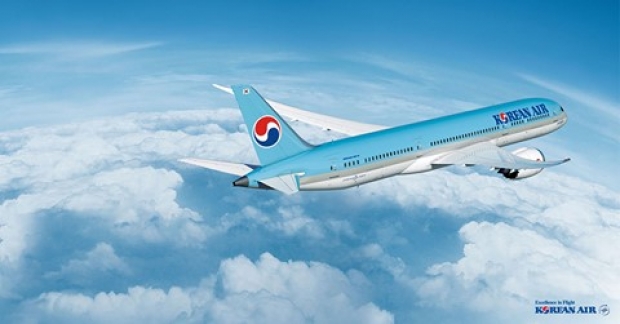 Explore the world with exclusive promotional fares from Korean Air. Standard Chartered Cardholders get to enjoy 20% off First Class airfares with promo code "SCB20F", 15% off selected Prestige Class airfares with promo code "SCB15P", and 10% off selected Economy Class airfares with promo code "SCB10E". Book by 30 June 2018, for travel till 31 December 2018.
Simply book using your Standard Chartered Card and the exclusive promo codes below.
Booking period: 18 May – 30 June 2018 | Travel by 31 December 2018
ECONOMY CLASS

PRESTIGE CLASS

FIRST CLASS

10% off airfares
15% off airfares
20% off airfares
Promo code: SCB10E
Promo code: SCBP15
Promo code: SCB20F

Valid for fare classes
Y / B / M / S / H / E / K / L / U

Valid for fare classes
J / C / D / I / R

Valid for fare classes
P / F
Terms and Conditions:
The offer listed above are exclusive to credit and debit cardholders of Standard Chartered Bank (Singapore) Limited ("Standard Chartered" or the "Bank") who make payment with a credit or debit card issued by the Bank. This offer is valid for booking from 18 May to 30 June 2018 (the "Promotion Period") and valid for travel by 31 December 2018. The offer is valid for bookings on First Class, selected Prestige and Economy Class base fares only. For the avoidance of doubt, the principal cardholder need not be the traveller. The Bank is not an agent of Korean Air Singapore (the "Merchant"). Any dispute about the quality or service standard must be resolved directly with the Merchant. The Bank will not be liable or responsible for any defects, deficiency, quality, merchantability, the fitness or any other aspect of the goods or services provided by the Merchant, or the acts or defaults of the Merchant. The Bank shall also not be responsible for any loss to or expenses of any cardholder in connection with any travel (whether planned or actual) made pursuant to the offer above, howsoever arising. The Merchant's individual terms and conditions apply. The Bank reserves the right to revise any of these terms, or to terminate, withdraw, extend or shorten this offer at any time at its sole and absolute discretion without prior notice.
The Good Life® Terms and Conditions apply . Visit http://www.koreanair.com/global/en/promotions/SCB/ for full terms and conditions.

Check out Standard Chartered Bank for more details about this offer and to see all deals up for grab!