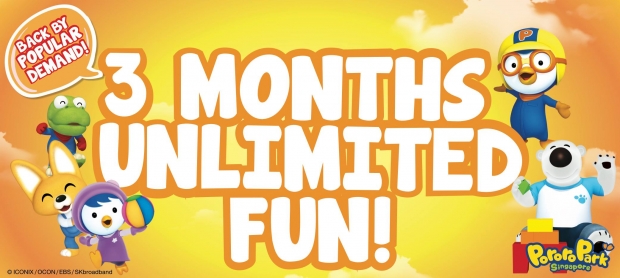 Back by popular demand!
Get your hands on our hottest membership to date.
Enjoy 3 months of unlimited fun; all-day, everyday at $199 only!

WAIT, there's more! Two accompanying adults enter for free with every entry, enjoy 10% discount on Loopy's Cafe & Rody's Toystore and a $100 off our birthday packages!

But don't worry, the fun doesn't stop after 3 months. Enter the park at our Annual member's rates ($24.50- U.P. $29.90) for the last 9 months.

What are you waiting for? Get them while it's hot!
Purchase online here: goo.gl/r7FMT2

Limited promotion period till 30th June 2018 only!

Terms and conditions apply.
Check out Pororo Park Singapore for more details about this offer and to book your tickets now!