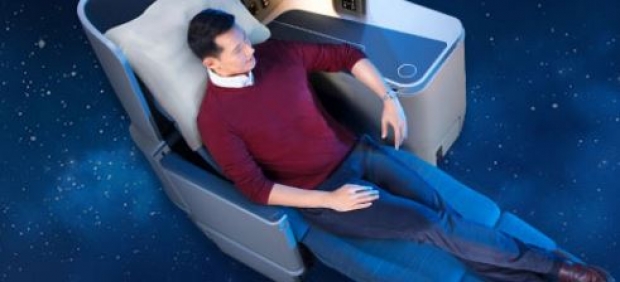 ROUNDTRIP BASE FARE

Selling Period: July 2 to 15, 2018
Travel Period: August 16 to December 31, 2018
| | | |
| --- | --- | --- |
| DESTINATIONS | PREMIUM ECONOMY | BUSINESS CLASS |
| Manila | SGD 439 | SGD 769 |
| Guam (via Manila) | - | SGD 999 |
| Osaka (via Manila) | SGD 1,109 | SGD 1,279 |
| Tokyo (Narita) (via Manila) | SGD 1,219 | SGD 1,369 |
| Tokyo (Haneda) (via Manila) | SGD 1,219 | SGD 1,369 |
| Nagoya (via Manila) | - | SGD 1,569 |
| Fukuoka (via Manila) | - | SGD 1,569 |
| Honolulu (via Manila) | SGD 3,139 | SGD 3,399 |
| Los Angeles (via Manila) | - | SGD 3,629 |
| San Francisco (via Manila) | - | SGD 3,629 |
| Vancouver (via Manila) | - | SGD 4,159 |
| Toronto (via Manila) | - | SGD 4,799 |
Fare Conditions:

1. Seats are subject to availability.
2. Fares quoted are exclusive of government taxes, fees and surcharges. Taxes and charges are subject to change with or without prior notice by the authority.
3. Minimum/maximum stay to Manila is 3D/1M for SIN/KL/BKK, to Manila is 3D/3M for ME, to GUM is 3D/1M for SIN/KL, to JP is 3D/1M for SIN, to JP is 2D/1M for JP, to AU/AKL/LHR is 3M for BKK; to US is 3D/3M for SIN/KL/BKK, to CA is 3D/3M for SIN/BKK, to all sectors is 3M for SGN, to all sectors is 3D/3M for POM/TW/HK/MFM, to other sectors is 2D/4M for ME, to US/LON is 3M for ID, to other sectors is 1M for ID, and to all other sectors is 3D/1M for JP; For Premium Economy is 2D/1M for HK/MFM/JP.
4. No-show fee is SGD95 for SIN, MYR320 for KL, THB1750 for BKK, VND 1,705,000 for SGN, PGK240 for POM, AED280 for UAE, SAR280 for KSA, TWD2270 for TW, HKD590 for HK, MOP610 for MFM, IDR 1,002,000 to all sectors except US/LON for ID, and IDR 1,080,000 for ID to US/LHR.
5. Weekend surcharge on Outbound (TH/FR/SA departures) is USD30 for ME-PH, JPY35000 for JP Business, JPY2500 for JP Premium Economy, and HKD80 for HK-MNL Premium Economy.
6. Ticket is non-transferable.
7. For Business class, refund fee is SGD140 for SIN, MYR430 for KL, THB3485 for BKK, VND 2,274,000 for SGN, PGK320 for POM, AED370 for UAE, SAR375 for KSA, TWD3030 for TW, HKD790 for HK, MOP810 for MFM, IDR 1,335,000 for ID-Beyond (except US and LHR), IDR1,440,000 for ID-US/LHR, SGD95 for SIN, THB2500 for BKK, HKD590 for HK, and JPY20,000 for JP for partially used tickets
8. Change fee is SGD140 for SIN, MYR430 for KL, THB1750 for BKK, VND 2,274,000 for SGN, PGK320 for POM, AED370 for UAE, SAR375 for KSA, TWD3030 for TW, HKD790 for HK, MOP810 for MFM, IDR 1,335,000 for ID-Beyond (except US and LHR), IDR 1,440,000 for ID-US/LHR, JPY10,000 for JP for Business class and free of charge for Premium Economy. For Premium Economy, ticket is refundable at HKD200 refund fee for totally unused tickets for HKG.
9. Accompanied child's fare is 75% of adult fare. Infant fare for infant without a seat under 2 years is 10% of adult fare; For Japan - Child discount - 100%. Infant fare for infant without a seat under 2 years is 20% of adult fare.
10. Mileage accrual is 125% for Business and Premium Economy.
11. Baggage Allowance - Fare is inclusive of 7-kg handcarried baggage. Free baggage allowance will vary per route.
12. Tickets issued online or outside of the Philippines does not include Philippine Travel Tax (PH tax). PH tax shall be paid directly at the airport before departure. PH tax is applicable to Philippine passport holders, foreigners holding a Philippine resident visa, and foreign tourists or expatriates who have stayed in the Philippines for more than one year.
13. Other travel conditions apply.

Check out Philippine Airlines for more details about this offer and to book your seats now!