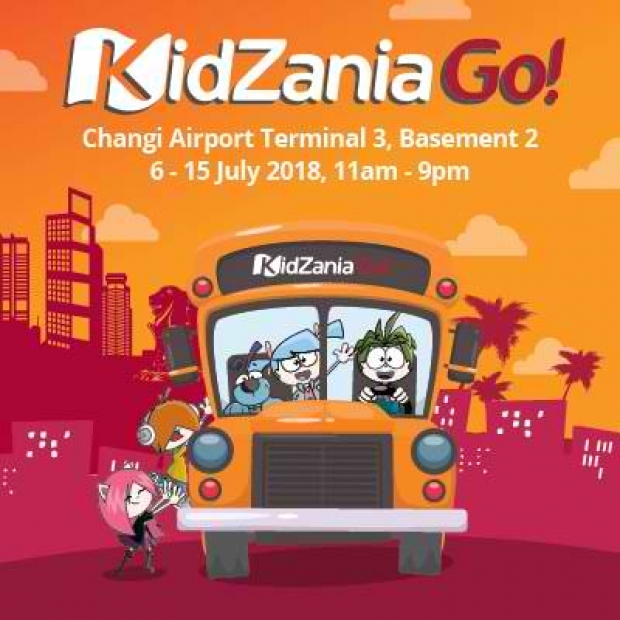 KidZania Singapore is heading to the East! Come on down for 10 days of fun at Changi Airport Terminal 3, and get a glimpse of what it's like at our kid-sized City where big dreams start!
Date: 6 – 15 July 2018
Time: 11am – 9pm
Venue: Changi Airport Terminal 3, Basement 2
Fees: Event is free but a minimum spending is required for all role-play activities

Event Highlights
Canon Imaging Academy: Be a Photography Student
Pick up the basic functions of a DSLR camera and bring home a printed digital photo for keepsake. Parents are welcome to take part in the photo-taking segment.
SUNSTAR Dental Clinic: Be a Junior Dentist
Kids will learn the correct way of brushing their teeth and how to maintain good oral hygiene.
True Chiropractic Clinic: Be an Assistant Chiropractor
Kids will conduct posture screenings as they pick up useful tips on strengthening exercises and ways to improve their posture.
Exclusive Promotions and Ticket Bundles
Don't miss out on exclusive promotions up to 40% OFF ticket bundles! There will also be goodie bags worth S$80 each up for grabs with every purchase of a KidZania Singapore Annual Pass.
Meet-and-Greet with our RightZKeepers (7, 8, 14 and 15 July at 2pm and 6pm)
Say 'Kai' and snap a photo with our RightZKeeper during the special meet-and-greet appearance and goodie bag giveaways, only on weekends.
Z-U there!
Check out KidZania Singapore for more details about this offer and to see deals up for grab!