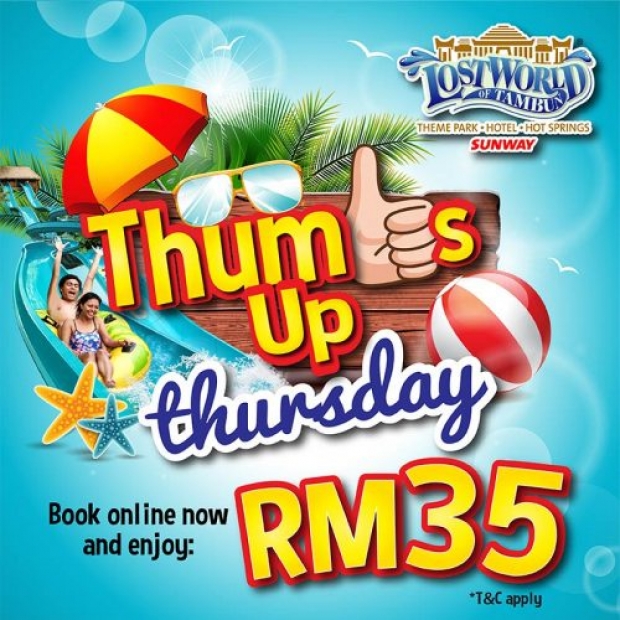 Rejoice! Thursdays is never the same! An entire day of fun and adventure at RM 35.00 on SELECTED Thursdays for each month. Plus! '50% OFF' to our Haunted Chambers for the first 100th guests! *.
Now isn't that a Thumbs-Up to your Thursday?! Purchase now!
Ticket(s) valid on:
26 July 2018
9 August 2018
6 September 2018
25 October 2018
15 November 2018
Ticket Inclusive Access to:
Lost World Amusement Park
Lost World Water Park
Lost World Tiger Valley
Lost World Petting Zoo
Lost World Tin Valley
Lost World Hot Springs & Spa
Lost World Hippo Kingdom
Terms & Conditions:
This promotion is ONLY valid on selected dates.
This promotion is ONLY valid for ONLINEPurchase.
* '50% OFF on Haunted Chamber' for the first 100th guests to redeem at Haunted Chambers counter. First come first serve basis.
This promotion is non-refundable, not exchangeable for cash & not applicable with other ongoing offers, events and/or promotions.
Ticket valid for ONE admission per day.
Child denotes that above 90cm in height and aged 12 years and below.
Free entrance for children under 90cm in height.
All transactions made are strictly on cash or credit card basis upon purchase.
Lost World Of Tambun Management reserves the right to refuse, alter, amend, delete or add to the stated terms and conditions or withdraw this promotion at any time without prior notice.
For your comfort and safety, all visitors are required to comply with DRESS CODE when swimming or using the rides in the waterpark. Kindly refer swimming attire guide, HERE
Check out Sunway Lost World of Tambun for more details about this offer and to book your tickets now!