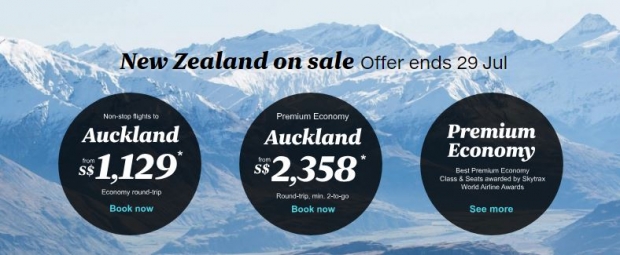 If you want to visit New Zealand for the world-famous scenery and serenity, we can help. If you want to eat and drink in a country that's famous for the high quality of its cuisine, we know all the best places. And if you want to re-energise with easy outdoors adventures, we're full of ideas.
Find flight deals to New Zealand below.
Destinations
Economy Class
Minimum 2-to-Go
Premium Economy
Minimum 2-to-Go
Business Premier
Auckland
SGD 1,129
SGD 2,358
SGD 4,758
Christchurch
SGD 1,229
SGD 2,108
SGD 4,658
Queenstown
SGD 1,429
SGD 2,698
SGD 5,498
Wellington
SGD 1,229
SGD 2,498
SGD 4,658

Sale ends 29 July 2018
Travel period 5 August to 31 August 2018 and 28 October to 31 December 2018 (For Economy)
1 September to 31 Dec 2018 (Premium Economy and Business Premier)

Terms and conditions apply.
Check out Air New Zealand for more details about this offer and to book your seats now!