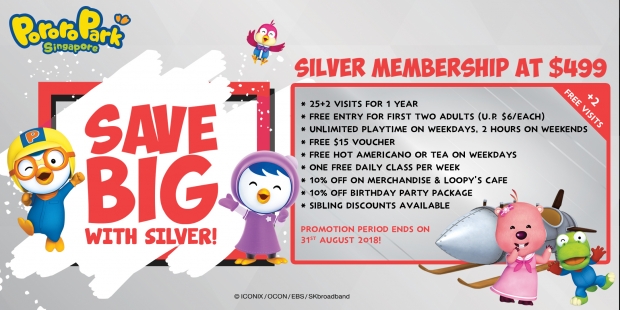 Enjoy additional 2 FREE visits with every Silver Membership purchased in the month of August 2018.
Pororo Park Singapore House Rules:
Parents and guardians are responsible for supervising children under their care at all times.
All children have to be accompanied by an adult for entry.
Guardians who are not parents must be at least 16 years of age.
Identification may be required as proof of age.
Socks must be worn at all times by all guests entering into the premise.
Admission is by per entry per person basis. Guests are required to settle the payment before entering the Park and to present the receipt upon departure for proof of entry time.
Strictly no swopping of adults after admission. Exchanging of adult requires a separate entrance fee.
Children less than 3 years old are not allowed on certain attractions without adult supervision. Children should play in the appropriate play zone for their age.
Please ensure your children are in good health before entering the Park. The management reserves the rights to refuse or remove entry to any person who appears to be unwell.
No outside food and drinks are allowed to be brought into the premise with the exception of baby formula.
Damages caused through bad, unruly behavior or misuse of the facilities will be charged to the guests.
Guests agree not to hold the owners, management and staff of Pororo Park Singapore liable for any injury or casualty that may be sustained at the Park. Use of all Pororo Park Singapore attractions are at visitors' own risk.
Use of the Park is governed by regulations and published conditions.
All guests agree to abide by all of the above house rules upon entering.
Check out Pororo Park Singapore for more detaills about this offer and to see all deals up for grab!