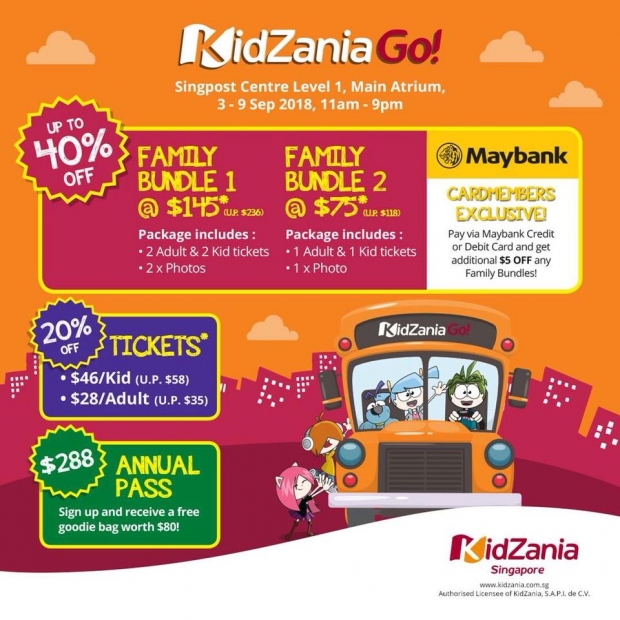 Great news for our Kals living in the east! We are coming to a neighbourhood near you! Join us at KidZania Go! SingPost Centre, Main Atrium Level 1, from 3 - 9 Sep and check out various role-play activities we have in store and of course, exclusive ticket deals!

Event Highlights
Abbott Activity and Sampling Booth
Adults can receive an Abbott welcome kit upon completing a survey, while kids can look forward to assembling a 3D dinosaur puzzle. There will also be different milk samples for tasting on 7, 8 and 9 Sep.
Canon Imaging Academy: Be a Photography Student
As a Photography Student, kids will learn the basics of photography and the functions of a DSLR camera. They can also bring home a printed digital photo for keepsake. Parents are welcome to take part in the photo-taking segment.
Discovery Film Studio: Be a Trainee Host
As a Trainee Host, kids can host their own documentary and learn more about the newly launched Discovery Kids App!
Kiss92: Coaching Class
8 Sep, 1pm – 3pm
Kids can look forward to a coaching class and pick up techniques to be a radio DJ for one day only on 8 September. Take part in our Facebook contest to stand a chance to get up close with your favourite DJs!
Maybank: Be a Bank Consultant
As a Bank Consultant, kids will be introduced to basic financial literacy concepts through interactive activities. They will also learn the importance of saving, spending and giving.
Sunstar Dental Clinic: Be a Junior Dentist
As a Junior Dentist, kids will learn the importance of oral hygiene and good dental habits.
Tuas Power Generation Plant: Be an Engineer
As an Engineer, kids will learn the process of electricity generation and the importance of electricity conservation.
Meet-and-Greet with our RightZKeeper and take part in our Stage Segments
Besides fun stage segments for both parents and kids to participate in, look forward to join KidZania dances and get pumped up with a session of K-Kardio! Kids can also get up close and personal with our beloved RightZKeeper at 12pm and 7.30pm daily.
Exclusive Promotions and Ticket Bundles
Don't miss out on exclusive promotions up to 40% OFF ticket bundles! Make your purchase with your Maybank Credit or Debit card and enjoy S$5 off any ticket bundles.
Family Bundle 1 @ S$145 (U.P. S$236) – 2 Adult and 2 Kid Tickets and 2 x A5-sized photos
Family Bundle 2 @ S$75 (U.P. S$116) – 1 Adult and 1 Kid Ticket and 1 x A5-sized photo
Purchase a KidZania Singapore Annual Pass @ S$288 and receive a free goodie bag worth S$80!
What's more, get first dibs on tickets to KidZania Singapore's inaugural Halloween event, SpookyTown: The Lost Carnival, and receive a limited edition SpookyTown lanyard with every ticket purchase.
Single Ticket: S$43 (U.P. S$48)
Bundle of 3 Tickets: S$118 (U.P. S$144)
Bundle of 4 Tickets: S$156 (U.P. S$192)
Z-U there!

Check out KidZania Singapore for more details about this offer and to see all deals up for grab!