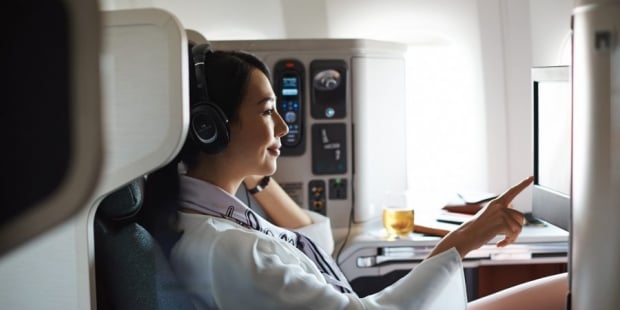 Special Business Class fares from SGD$738 all-in per person
Travel to over 30 destinations
Be greeted with the luxury of Business Class. Enjoy priority check-in, premium lounge access and fine dining onboard. Book online now and enjoy our special Business Class fares from SGD$738 all-in per person. Offer ends 31 Oct 2018.

Flights to Washington start from 15 Sep 2018
| | | |
| --- | --- | --- |
| From /To | Price | Class |
| Singapore - Hong Kong | from SGD$1,408 | |
| Singapore - Bangkok | from SGD$738 | |
| Singapore - Taipei | from SGD$1,558 | |
| Singapore - Shanghai/Shanghai Pudong Int'l | from SGD$2,018 | |
| Singapore - Shanghai/Shanghai Hongqiao Int'l | from SGD$2,018 | |
| Singapore - Beijing | from SGD$2,018 | |
| Singapore - Seoul/Incheon Int'l | from SGD$1,738 | |
| Singapore - Busan | from SGD$1,738 | |
| Singapore - Fukuoka | from SGD$2,518 | |
| Singapore - Nagoya | from SGD$2,538 | |
| Singapore - Tokyo/Narita Int'l | from SGD$2,538 | |
| Singapore - Tokyo/Haneda | from SGD$2,538 | |
| Singapore - Osaka/Kansai Int'l | from SGD$2,538 | |
| Singapore - Brussels | from SGD$5,448 | |
| Singapore - Dublin | from SGD$5,418 | |
| Singapore - Manchester | from SGD$5,718 | |
| Singapore - London/Heathrow | from SGD$5,718 | |
| Singapore - London/Gatwick | from SGD$5,718 | |
| Singapore - Amsterdam | from SGD$5,088 | |
| Singapore - Copenhagen | from SGD$5,138 | |
| Singapore - Madrid | from SGD$5,138 | |
| Singapore - Barcelona | from SGD$5,138 | |
| Singapore - Paris/Charles De Gaulle | from SGD$5,148 | |
| Singapore - Milan/Milan Malpensa | from SGD$5,048 | |
| Singapore - Rome | from SGD$5,068 | |
| Singapore - Zurich | from SGD$5,048 | |
| Singapore - Frankfurt | from SGD$5,138 | |
| Singapore - Tel Aviv | from SGD$5,438 | |
| Singapore - Los Angeles | from SGD$5,788 | |
| Singapore - San Francisco | from SGD$5,988 | |
| Singapore - New York/John F Kennedy Int'l | from SGD$5,988 | |
| Singapore - New York/Newark Liberty Int'l | from SGD$5,988 | |
| Singapore - Chicago/Chicago O'Hare Int'l | from SGD$6,558 | |
| Singapore - Boston | from SGD$6,988 | |
| Singapore - Washington DC/Washington Dulles Int'l | from SGD$7,188 | |
| Singapore - Vancouver | from SGD$6,248 | |
| Singapore - Toronto | from SGD$6,708 | |
Terms and Conditions:
The above fares are on Business Class, on per person basis and includes all applicable taxes/surcharges. Taxes and surcharges are correct as of 01 Aug 2018 but are subject to change due to currency fluctuation. The taxes are final at the point of ticketing.
Minimum 2 passengers travelling together in one booking, no deviation is allowed.
Sales period: 05 Sep - 31 Oct 2018
Travel period: Travel departing Singapore between 19 Sep 2018 - 31 Jul 2019
Advance purchase: 14 days advance purchase required before departure from Singapore.
Flight restrictions:

Hong Kong (SGD1,408 fare): not valid on CX710/736/658/659/650/652/691
Bangkok: Valid on CX712/CX619/CX717

Rebooking fee of SGD200 applies for the following, all subject to advance purchase conditions (both tickets must make the same changes):
- Flight/ date change within ticket validity.
- Rerouting from one destination to another within the same region e.g. LAX to JFK.
- Reissue of non-HKG stopover to one HKG stopover.
- Reissue to open-jaw routing within the same region.
- Upselling to a higher class fare, tax differences will be collected as well.
No-show fee: No-show of SGD400 per passenger will apply for passengers who fail to make prior cancellation of their confirmed flights.
Stopover: One Hong Kong stopover allowed on the return leg of the journey with applicable taxes. One BKK stopover allowed throughout the journey with SGD300 surcharge and applicable BKK taxes. Please call CX Global Contact Centre at 6723 1378 before making a booking. For Bangkok: point-to-point only, no stopover is allowed.
Open-jaw: Open-jaw routings within the same region is permitted. Region is defined as Korea, Japan, Mainland China, Europe and North America. Please call CX Global Contact Centre at 6723 1378 before making a booking.
Child Discounts: 75% of adult fare.
Infant without seat: 10% of adult fare. Infant with seat: Please use child fare.
FFP mileage: Eligible for Asia Miles.
Refund: Fully unutilised tickets are refundable subject to refund fee of SGD200. No refund for partially used tickets.
Offers are subject to reservation system seat/booking availability of Cathay Pacific Airways.
Advance seat reservation (preblocking of seat) is available with these fares.
Tickets are non-transferable and name change is totally not permitted.
Other fees and surcharges applies e.g. name amendment, etc.
Tickets must be used in sequence. If the first outbound sector is not utilised, the rest of the itinerary is automatically cancelled.
Other Terms and Conditions apply.
Check out Cathay Pacific for more details about this offer and to book your seats now!