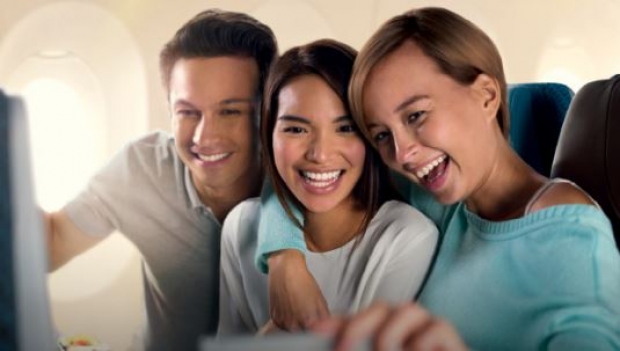 Enjoy great fares to the world's top destinations with Singapore Airlines and SilkAir, along with perks to make travelling more rewarding.

Sale period: 6 to 27 September 2018
Travel period: Selected periods between 1 April to 31 August 2019
DESTINATION
ALL-IN ECONOMY CLASS
FARES FROM
Ho Chi Minh City
S$198
Bangkok
S$208
Cebu
S$228
Denpasar (Bali)
S$238
Hong Kong
S$258
Mumbai
S$398
Perth
S$438
Shanghai
S$458
Melbourne
S$588
Seoul
S$598
Tokyo
S$578
Osaka
S$648
Istanbul
S$798
Zurich
S$998
London
S$998
Paris
S$1,038
San Francisco
S$1,158
New York
S$1,348
The advertised fares include the price of the air ticket and associated taxes. Fares quoted are subject to change due to currency fluctuation. Fares are available from 6 to 27 September 2018, or when seats sell out. Fares quoted are per person for travel out of Singapore on selected dates from 1 April to 31 August 2019. A minimum of 2 or more passengers must travel together on the entire itinerary for selected fares. Blackout dates and flight restrictions apply. Full terms and conditions can be found at singaporeair.com.

Receive S$30 CapitaLand voucher or a Delsey Belmont 70cm luggage (worth S$409) with minimum spend of S$1,200 and more
To participate:
1. Book your flight via The Great Singapore Airlines Getaway website, charge the minimum spend requirement to a valid HSBC credit card in a single transaction; and
2. Send an SMS in the following format to 74722: "Keyword" + your 16-digit credit card number (e.g. Promo Voucher 4835123456789000).
For more details, click here.
| | | |
| --- | --- | --- |
| Min. spend | S$1,200 | S$4,000 |
| Gift | S$30 CapitaLand Mall vouchers (limited to first 500 redemptions) | Delsey Belmont 70cm luggage worth S$409 (limited to first 180 redemptions) |
| Keyword | Voucher | Luggage |
Terms & Conditions
A customer who holds a HSBC credit card (except HSBC USD card, HSBC Corporate card and HSBC Debit card) ("Card") issued by HSBC Bank (Singapore) Limited ("HSBC"), ("Cardholder") and who fulfills these terms and conditions shall be eligible to participate in this "The Great Singapore Airlines Getaway" promotion ("Promotion").
A minimum of 2 or more passengers must travel together on the entire itinerary for the fare to apply.
Blackout dates and flight restrictions apply.
To participate in the Promotion, Cardholders must first charge the relevant minimum spend amount in a single transaction via The Great Singapore Airlines Great Getaway website to their Card during the Promotional Period; then successfully register their Card by sending a SMS with the respective Keyword in the following format to 74722 within the Promotional Period (each successfully registered Card shall be known as a "Registered Card"): "Keyword"16-digit credit card number (for example: PROMO VOUCHER 4835123456789000); and be among the qualifying number of Cardholders indicated in the table below for each Spend Tier to be eligible to redeem the corresponding gift ("Gift"). Visit https://cardpromotions.hsbc.com.sg/singaporeair for more details.
All Gifts are not transferable or exchangeable for cash, credit or any other items.
Extension of expiry or redemption dates of the Gifts will not be entertained and there will be no replacement of lost, defaced, torn, damaged or stolen Redemption Letter(s) / Gift(s).
It is the responsibility of Cardholders to ensure that the correct Card number, to which transactions are charged under this Promotion, is submitted.
Each Cardholder is only eligible for one (1) Gift. Supplementary Cardholders are eligible for this Promotion as long as the minimum spend amount had been charged to their Card.
HSBC will not be responsible for any failure or delay in the transmission of the transactions by any party including but not limited to acquiring merchants, merchant establishments, or any telecommunications provider.
After the Promotional Period, HSBC will verify if the Cardholder's Registered Card is eligible for the relevant Gift based on the transaction amount charged to that Registered Card within the Promotional Period.
Cardholders who are eligible for the Gift will be receive the redemption letters by mail before 1 November 2018 ("Redemption Letter"). The vouchers issued under this Promotion are subject to the terms and conditions of the issuing merchant as set out on the respective vouchers.
HSBC is not the supplier of and accepts no liability for the goods and services provided by the merchant involved in this Promotion. HSBC reserves the right to vary any of these terms and conditions, or to withdraw this Promotion, at any time in its discretion without prior notice. All information is accurate at the time of publishing or posting online.
Check out HSBC for more details about this offer and to see all deals up for grab!